Michelle's FreeFrom braised pigeon breasts with chestnuts

Corn, dairy, egg, gluten, lactose, nightshade, soya and wheat free
This is a slow-cook dish which should be prepared the day before you need it and just finished off before serving. If you cannot eat nuts, substitute 150g / 5oz of field mushrooms, halved or quartered and lightly tossed in 2 tbsp olive oil.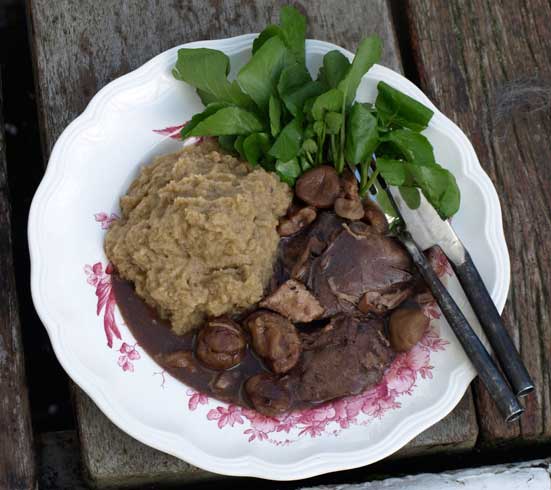 2 onions, peeled and halved
4 cloves garlic, peeled
1 large carrot, sliced thickly
2 large parsnips, scrubbed and sliced thickly
6 medium mushrooms, halved
200g / 7oz piece belly pork, cut in half
4 pigeons
3-4 bay leaves
2-3 sprigs fresh thymes
2 large sprigs parsley
1 tsp black peppercorns
300ml / 10fl oz red wine plus water to cover
1 medium celeriac, peeled and diced
250g / 9oz cooked chestnuts
1 tbsp wheat and gluten-free flour
1 tsp dark muscovado (raw) sugar
sea salt
Put the onions, garlic, carrot, parsnips, mushrooms, belly pork, and pigeons in a large, heavy casserole. Lay the herbs on the top, sprinkle over the peppercorn and pour over the wine. Add enough water to just cover the pigeons.
Bring slowly to the boil, cover and simmer very gently for 2-3 hours or until the pigeons breasts are relatively soft when you spear them with a knife.
Remove from the heat and remove the pigeons from the pot. With sharp knife, cut off the breasts and any thigh etc flesh that comes off easily. Set that aside and throw out the bones.
Steam the celeriac.
Strain the vegetables etc from the stock. Set the stock aside in a cool place and once it is chilled, remove any excess fat which rises to the top.
Meanwhile, remove the herbs from the vegetable mixture and discard. Purée the vegetables with the celeraics in a food processor and season to taste. Set aside.
To finish the dish, mix 1 tablespoon of gluten and wheat freeflour with 100ml / 3fl oz of the stock to make a smooth paste. Gradually add a further 500ml / 17fl oz of stock, heating and stirring it as you do so until it thickens slightly. Add the sugar and season to taste.
Meanwhile, halve the chestnuts. Add the chestnuts (or prepard mushrooms) and the reserved pigeon meat to the sauce and heat slowly.
Meanwhile, reheat the vegetable puree in a microwave or the oven and cook a green vegetable of your choice.
Serve the pigeon in its sauce with the vegetables.
Serves 6 – per portion
370 Calories
33g Protein
10g Fat (3g Sat fat, 4g mono, 2g poly)
30g Carbohydrate of which 10g Sugar
6.5g Fibre, 147mg Sodium, 0.37mg salt
80mg Calcium

Good Source: Vitamin B1, B6, niacin, folate
Back to more freefrom meat recipes