Michelle's FreeFrom Oyster-stuffed Shoulder of Lamb
Wheat, gluten, corn, soya, nightshade, egg, dairy & nut free
Smoked mussels and oysters are available in most supermarkets and are relatively cheap and very tasty. If you can get the lamb bones from the butcher, they make wonderful soup.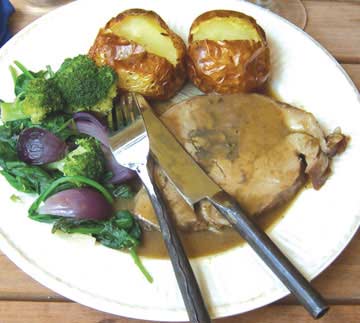 2 tbsp olive oil
100g / 31/2oz field mushrooms, wiped and sliced
1 x 85g / 3oz can of smoked oysters or mussels
4 large sprigs of fresh thyme or 4 tsp dried thyme
sea salt and freshly ground black pepper
1 medium shoulder of lamb, boned out but not
rolled
sea salt and freshly ground black pepper
Heat the oven to 180C/350F/Gas mark 4.
Heat the oil in a pan and briskly fry the mushrooms for 2-3 minutes or until their juices run. Remove and mix with the oysters or mussels, their oil and the leaves from two sprigs of thyme (or 2 tsp of dried thyme).
Lay out the lamb, season and then lay the oyster mixture down the middle. Roll the lamb, tie neatly with string and lay on a baking tray. Pour any juices that squeezed out over it.
Season, sprinkle with the remaining thyme leaves, cover lightly with foil and bake for 20 minutes per 450g / 1lb plus an extra 15 minutes. Remove the foil for the last 30 minutes.
When cooked remove to a serving dish and use the juices, some gluten-free flour and stock to make some gravy.
We served it with baked potatoes (not nightshade-free) and steamed red onion, broccoli and spinach.
Serves 6 - per portion
266cals - 32g protein
15g total fat - 5g sat / 3g mono / 0.5g poly
0.5g carbohydrate of which 0.1g sugar
0.2g fibre - 73mg sodium / 0.18 salt
21mg calcium
Good Source of: Vitamins B12, iron & zinc
Back to more freefrom meat recipes