Michelle's FreeFrom Mini rack of lamb with broad beans and chard
Corn, dairy, egg, gluten, lactose, nuts, soya and wheat free
A lovely little dish for an intimate supper. I serve it with steamed broad beans and rainbow chard but feel free to use whatever vegetables you fancy.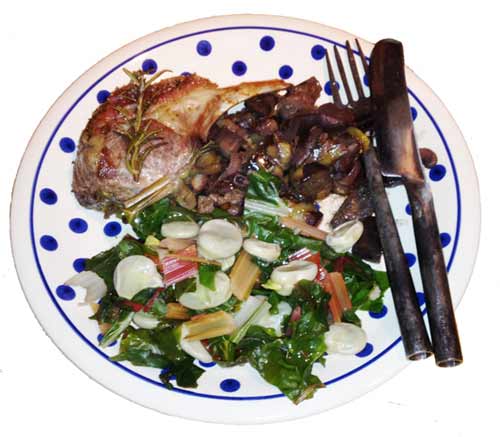 1 heaped tbsp coconut oil or butter or 2 tbsp olive oil
1 tsp cumin powder
1 leek, very finely sliced
2 largish mushrooms, sliced
½ small aubergine, diced
sea salt and freshly ground black pepper
½ glass red wine
mini rack of lamb – 4 cutlets cut in half
4 small sprigs of rosemary
Heat the oil or butter in a small flat pan and add the cumin powder and leeks. Fry gently for a few minutes then add the mushrooms and then, after another couple of minutes the aubergine and continue to fry, rather more briskly, for 3–4 minutes.
Heat the oven to 180C/350F/Gas Mark 4.
Add a little seasoning to the vegetables, and the wine and cover the pan. Cook gently for 20 minutes or until the aubergine is totally soft.
Transfer the vegetables to a small casserole, lay the rosemary over the vegetables and arrange the two sets of double cutlets on the top.
Bake, uncovered, for 30–45 minutes depending on whether you like your lamb pink or well cooked.
Remove from the oven, grate over some black pepper and served with vegetables of your choice.
Back to more freefrom meat recipes