Freefrom Manzo alla calfornia or beef braised in vinegar and cream
Corn, dairy, egg, gluten, lactose, nightshade, nut, soya and wheat free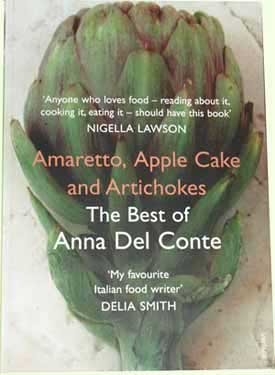 This a freefrom version of a delicious dish to be found in Anna del Conte's delightful book, Amaretto, Apple Cake and Artichokes. A surprising number of Anna's wonderful recipes are either already dairy and gluten free or can, as with this one, be very easily adapted.
You can buy all of Anna's books here on Amazon in the UK and here on Amazon in the US.

4 generous tbsp olive oil
2 onions, very finely chopped
2 celery stalks, very finely chopped
2 carrots, very finely chopped
1.8kg / 4lb lean chuck steak, top rump or brisket in one piece, neatly tied
120ml / 4fl oz red wine vinegar
sea salt and pepper
600ml / 20fl oz oat cream (you could also use soya or goat cream, depending on what you can eat)

Heat 3 tbsp of the oil in a deep casserole. Add the vegetables and sauté gently for 10 minutes, stirring frequently.
Heat the remaining tablespoon of oil in a separate pan and seal the meat on all sides. Transfer the meat onto the bed of vegetables.
Pour the vinegar into the meat pan and deglaze rapidly. Pour over the meat and season with salt and pepper.
Heat the cream and when just beginning to show bubbles at the edge, pour into the casserole. Bring slowly to the boil and simmer, covered, over a very low heat for about 3 hours or until the meat is very tender when pricked with a fork. Turn the meat 3 or 4 times during the cooking.
When the meat is ready, remove to a side plate and keep warm. Skim off as much fat as you can from the surface of the sauce.
Purée the sauce in a food processor then transfer to a clean saucepan and heat slowly. Taste and season. If the flavour is not concentrated enough (some meat contains a lot of water) boil briskly to reduce.
Slice the meat across the grain in 1cm thick slices and lay them, slightly overlapping, in a heated dish. Cover with some of the sauce and serve the rest in a separate heated bowl.
The dish can be prepared up to 3 days in advance and refrigerated. Skin the fat off the sauce (much easier to do when it is cold) then slice the meat and reheat it very gently in the sauce.
Serves 6 – per portion
Calories 599Kcals
70g Protein
29g Fat (7g Sat fat, 9g mono, 1g poly)
13g Carbohydrate of which 9.5g Sugar
1.5g Fibre, 248mg Sodium, 0.6 g salt
44mg Calcium

Good Source: Vitamin B6, B1, B12, B2, niacin, Iron, zinc,
Back to more freefrom meat recipes