Michelle's Freefrom Roast Leg of Lamb with Garlic
Wheat, gluten, corn, soya, nightshade, dairy, egg & nut free
Many years ago when I was working on a Victorian cook book I came across this wonderful recipe from Edward Abbott, a wealthy Tasmanian doing the Grand Tour. The book, with Michael Boys' evocative photographs, is now out of print - but the recipe lives on! Mr Abbott says of the dish:
'When the gigot a l'ail, which we had specially requested, was placed on the table it appeared to be a gigot aux haricots, but the meat was delicious and the beans were certainly superior to and bearing a different flavour from any haricots we had ever tasted before....... We summoned the landlord and demanded why we had not been served what we ordered but were assured that the dish that we had just eaten, and enjoyed, was indeed gigot a l'ail and what we had mistaken for beans, was garlic.'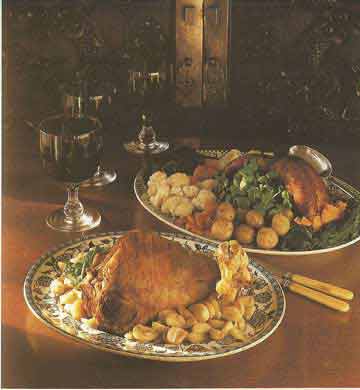 12 heads of garlic
1 small leg of mutton or a medium leg of lamb - 2 kilos / 4 1/2lb
sea salt
1 tbsp gluten/wheat-free flour
150ml / red wine
pinch dark brown sugar
Peel all the garlic heads - a longish business
but there is no way round it.
Put the cloves of garlic in a pan covered with light salted water, bring to the boil and simmer for 5 minutes. Repeat the process with clean water then drain the cloves
thoroughly.
Spread the cloves over the bottom of a baking
tray but keep them close together so that they remain under the meat and get dripped on by the cooking juices, otherwise they will dry up.
Place the lamb or mutton on a rack above the garlic cloves and roast in a medium oven (180C/350F/Gas mark 4) for 20 minutes per 450g / 1lb or slightly longer if you are using
mutton. When cooked remove to a warmed serving dish and pile the garlic cloves around the meat.
Drain any excess fat from the tin then add the flour. Stir and cook over a gentle heat for a few minutes then gradually add the red wine and enough water to thin to a gravy consistency. Serve with the lamb and appropriate vegetables.
Serves 6 - per portion
300cals - 29g protein
17g total fat - 7g sat / 6g mono / 1g poly
2.5g carbohydrate of which 0.5g sugar
0g fibre - 131mg sodium / 0.3g salt

Good Source of: Vitamin, B6, B12, zinc & niacin
Back to more freefrom meat recipes