Michelle's FreeFrom lamb tajine
Corn, dairy, egg, gluten, lactose, nut, soy and wheat free
This is a really delicious tajine anyhow, but even better if you can serve it with a good harissa sauce. We used the Belazu which is expensive but really good – not just hot but with wonderful deep complex flavours.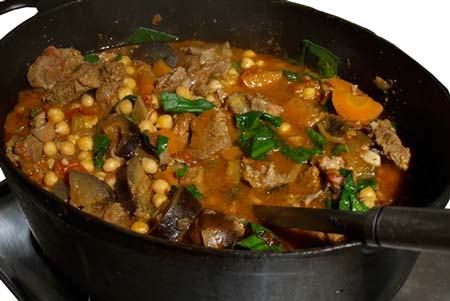 Serves 6
4 tbsp olive oil
5 heaped tsps ground cumin
2 heaped tsps ground coriander
4 large cloves garlic, peeled
and sliced
1 large onion, peeled and sliced
fairly thinly
1 large or 2 medium carrots, scrubbed and cut into thin rounds
3 sticks celery, chopped small
1 kilo neck fillet of lamb, cut in
thick slices
1 medium aubergine (eggplant), halved lengthways and sliced
6 dried limes
rind of ½ a lemon
600g/1lb 6oz fresh (chopped) or tinned chopped tomatoes
500ml / 2 cups gluten and wheat-free vegetable stock
100g/4oz fresh spinach (proper spinach rather than baby leaves if you can find it), chopped roughly
800g/1 ½ lbs cooked chickpeas – you can use tinned
sea salt and freshly ground black pepper
2–3 large handfuls of fresh coriander
harissa sauce
Heat the oil in a heavy pan – a cast iron one is ideal – and add the ground cumin and coriander, garlic, onion, carrot and celery. Fry fairly briskly without burning for 8–10 minutes or until all the vegetables are starting to soften slightly.
Add the lamb and continue to cook fairly briskly for another few minutes.
Add the aubergine, stir well around, then add the limes, lemon rind, tomatoes and stock. Bring to the boil then cove rand reduce the heat to a bare simmer.
Cook for 2 ½–3 hours over a very low heat.
Add the chickpeas and spinach and some seasoning, bring back to the simmer and cook for another 45 minutes to 1 hour.
When you are ready serve, adjust the seasoning to taste and add the chopped fresh coriander.
You can serve the tajine alone, with baked potatoes, rice, or, if you can eat them, couscous or flatbread – and, of course, the harissa.
Per portion
638 Calories
35g Protein
35g Fat (12.5g Sat fat, 17g mono, 2.5g poly)
30g Carbohydrate of which 8g Sugar
7g Fibre, 320mg Sodium, 0.8g salt
63mg Calcium

Good Source: Zinc, Iron, Vits B1, B6,B12, Niacin
Back to more freefrom meat recipes