FreeFrom braised lamb neck with kidney and shallots
Corn, dairy, egg, gluten, lactose, nut, soya and wheat free
You can use either spinach or curly kale in this recipe. I slightly prefer spinach as I think the kale is slightly to strong a flavour for the lamb, but I know that I am fairly obsessed with spinach so am suggesting kale as an alternative. I served the lamb with carrots whichI had steamed with some more curly kale.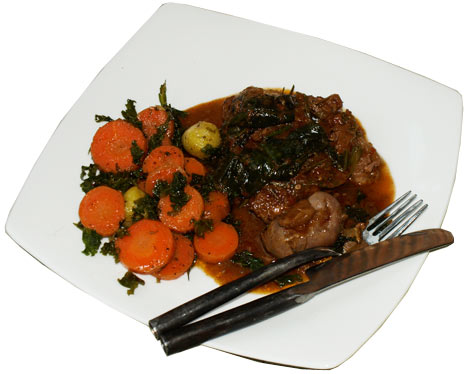 Serves 6
2 tbsp olive oil
10 shallots, peeled
10 cloves garlic, peeled and left whole
250g / 9oz okra, topped and tailed
and chopped in thick rounds
6 pieces of neck fillet with bone or 6 thick slices boneless lamb fillet
1 large sprig fresh rosemary or 1 heaped tsp dried
1 x 400g/14oz + 1 x 200g/7oz tins chopped tomatoes
100ml/3floz water to rinse out the tomato tins
200g/7oz fresh spinach leaves or curly kale
sea salt and freshly ground black pepper
In a heavy pot heat the oil and gently fry the shallots,
garlic and okra until they are starting to soften.
Add the lamb, turn up the heat and fry briskly until the lamb is lightly tanned on both sides.
Add the rosemary and the tomatoes and water. Brig not the boil, them cover and lower the heat to a gently simmer. Cook for 45 minutes to an hour or until the lamb is really soft.
Add the spinach leaves or kale with some seasoning and continue to cook for a couple of minutes to allow the spinach leaves to wilt, for another 8–10 minutes if you are using kale.
Adjust the seasoning to taste and serve with baked potatoes and another green vegetable.
Serves 6 – per portion
390 Calories
33g Protein
25g Fat ( 10g Sat fat, 11g mono, 1.7g poly)
8.1g Carbohydrate of which 6.5g Sugar
4.9g Fibre, 182mg Sodium, 0.46g salt
152mg Calcium

Good Source: zinc, Iron, B1,6,12, Niacin, Folate
Back to more freefrom meat recipes