Michelle's FreeFrom Lamb's Kidneys with chesnuts and Marsala
Dairy, egg, gluten, soya and wheat free; can be corn, nightshade and nut free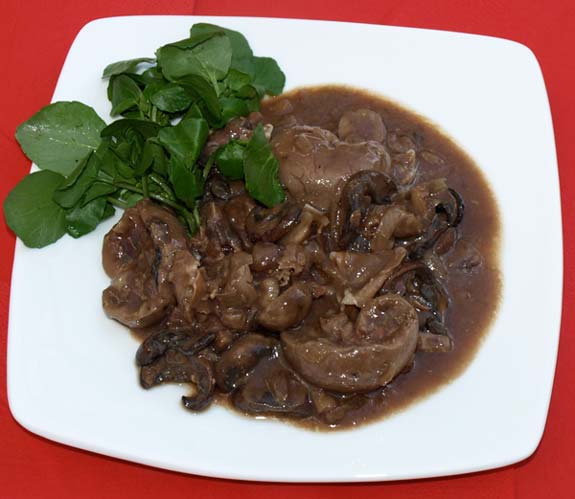 This is a really delicious way to serve kidneys. Although the chestnuts make it a more unusual dish, if you are allergic to nuts you can leave them out and it will still be extremely tasty. Serve with rice and a green vegetable or salad.
5 tbsp olive oil
1 large onion, peeled and very finely chopped
150g / 5oz chestnut mushrooms, wiped and sliced
150g / 5oz cooked chestnuts, sliced thickly (leave out if you are nut allergic)
1 tbsp seasoned corn or potato flour
12 lamb's kidneys, halved and trimmed
450ml / 16fl oz rice miso or gluten and wheat free vegetable stock
150ml / 5fl oz Marsala
6 slices Parma ham, cut into small squares
sea salt and freshly ground black pepper
Heat the oil in a wide pan and add the onions. Cook gently for 5 minutes or until the onions are softening then add the mushrooms and continue to cook for another 3–4 minutes. Add the chestnuts.
Meanwhile, toss the kidneys in the seasoned flour.
Add them to the vegetables, stir well then add the miso or stock and the Marsala. Bring to the simmer and simmer gently for 4–5 minute or until the kidneys are just cooked.
Add the Parma ham and mix well. Season with black pepper and a little salt if it needs it.
Serve with rice and green vegetables or a salad.
Serves 6 – per portion
Calories 245 Kcals
13g Protein
12g Fat (2g Sat fat, 7g mono, 1.4g poly)
14.5g Carbohydrate of which 4g Sugar
3g Fibre, 139g Sodium, 0.3g salt
25mg Calcium

Good Source: Vitamin B12, B6, B2
Back to more freefrom meat recipes