Lamb Steaks with Gravy
wheat, gluten, dairy, soya, egg, nightshade, nut free
Serves 4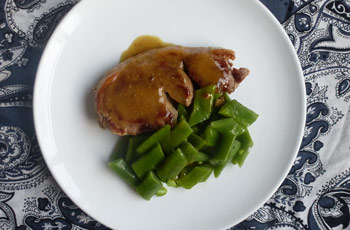 Ingredients
4 lamb leg steaks
1 tbsp olive oil
75ml / 3fl oz medium sherry
1 gluten free chicken stock cube
1 tsp Dijon mustard
1 tsp arrowroot
salt and pepper
Method
Preheat a large frying pan.
Rub a little oil on both sides of each lamb steak.
Fry the lamb for about 3 minutes on each side then remove from the pan.
Cover to keep warm while you make the gravy.
My steaks were about 3cm / 1in thick and this made them medium - a little pink in the middle.
Add the sherry to the pan and bring to the boil.
Crumble in the stock cube and spoon in the mustard. Stir to blend.
Add 300ml / 10fl oz boiling water. Heat and stir until reduced.
Dissolve the arrowroot in a teaspoon of water and add to the gravy.
Heat until blended and thickened. Season with salt and pepper.
Serve the lamb with potatoes or rice, vegetables and the gravy poured over everything!