Beef Noodles with Broccoli and Spring Onions
Corn, egg, gluten, lactose, milk, nut, peanut & wheat free
Serves 2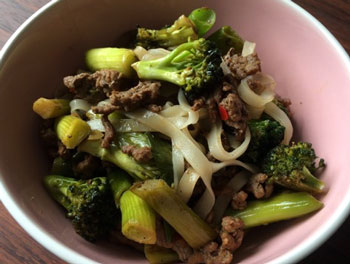 Ingredients
100g gluten free rice noodles
1 tbsp sesame oil
250g beef mince
1 clove garlic, crushed
½ tsp chinese 5 spice
1 tsp grated ginger
1 red chilli, finely chopped
3 tbsp tamari wheat free soya sauce
1 head of broccoli florets
1 bunch spring onions
juice of 1 orange
Method
Cook the noodles according to the instructions on the pack, rinse and set aside.
Heat the oil in a wok or large frying pan.
Add the mince and cook until browned.
Put the garlic, 5 spice, ginger, chilli and 1 tbsp soya sauceinto the pan and cook for a few minutes while stirring.
Cut the broccoli florets into smaller pieces and chop the onions into 4 pieces.
Stir the vegetables into the meat and keep cooking until the meat is cooked through and the vegetables have softened slighltly.
Add the rest of the soya sauce and the orange juice along with the noodles.
Warm through and mix well.
Serve immediately.
We have over 800 delicious freefrom recipes on this site all of which are gluten free, most of which are dairy and lactose free and many of which are free of most other allergens. Please go to the following sections to try them out: