Sausages and Lentil Stew with Potato, Parsnip and Apple Mash
Gluten, dairy, soya, nut & egg free
Serves 4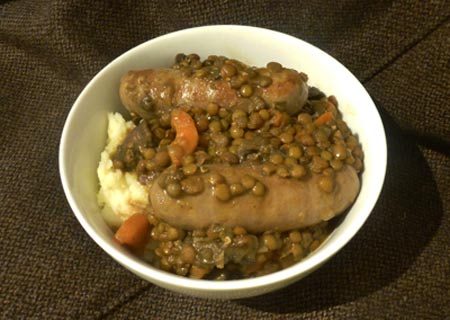 Stew ingredients
1 tbsp oil
12 gluten free sausages
1 large or 2 small onions
3 large carrots, chopped into chunks
250g lentils
150g mushrooms
1 tsp thyme
350ml stock (I used chicken)
400g can of beef consomme (I used Baxters, check ingredients)
In a large saucepan heat the oil and brown the sausages (I had to do this in 2 batches). I needed to add a spoon of stock a few times to stop the sausages sticking to the saucepan.
Once they are browned, remove the sausages from the saucepan. Turn the heat down and add the onions to the pan. Saute until they are softened, then add the carrots and lentils, mushrooms and thyme and coat in the pan juices.
Add the stock, consomme and sausages and bring to the boil.
Reduce the heat to a simmer and cook for 30 minutes. If the liquid reaches a suitable thickness before then, add a lid to the saucepan for the rest of the cooking time.
Mash ingredients
4 large potatoes (approx 600g)
2 parsnips
2 eating apples
splash of dairy free milk
salt and pepper

Peel the the potatoes, parsnips and apples. Chop into even sized chunks.
Place the potatoes and apples in a saucepan of cold water and bring to the boil. Boil for about 10 minutes until they are soft.
Put the parsnips in a separate saucepan of water and bring to the boil. Boil for about 5 minutes until soft.
Drain the cooked potatoes, parsnips and apple. Mash everything until smooth, adding a little milk to loosen. Season to taste with salt and pepper.

Back to more freefrom meat recipes