Spicy Tomatoes with Bacon
Wheat, gluten, dairy, egg, soya and nut free
This could easily be served as a side dish without the bacon.
Serves 2 as a main or 4 as a side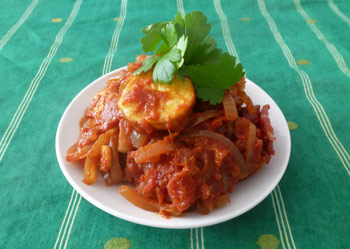 Ingredients
3 onions
2 tbsp olive oil
400g new potatoes
2 cloves of garlic
1 tsp smoked paprika
½ tspn cumin
½ tspn chilli powder
1 tsp honey
400g can of tomatoes
6 rashers of bacon
Method
Preheat the oven to 180oC.
Peel the onions then cut them in half.
Cut them in half again and slice thinly.
Heat a tablespoon of the oil in a lidded pan.
Add the onions to the oil and cook on a very low heat until transluscent.
Thinly slice the garlic and add to the pan with the rest of the spices.
Turn the heat up a little and cook for a minute or two.
Add the honey and the tomatoes.
Bring to the boil then reduce the heat to a simmer.
Put the lid on and leave to reduce.
Add a little water if it looks a bit dry.
Wash the potatoes and cut to similar size chunks.
Coat the potatoes in the rest of the oil and place in the oven for 40 minutes until nicely coloured and cooked through.
5 minutes before you take the potatoes out, grill the bacon until crispy.
Mix the potatoes into the tomatoes and stir through the bacon cut into strips.