Chicken and Chorizo Rice
Wheat, gluten, dairy, soya, egg, nut free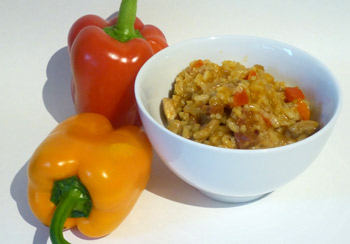 Serves 4

Like risotto this is the kind of hearty dish you can eat with just a spoon which is sometimes just the job.
Ingredients
110g chorizo, chopped
½ tsp smoked paprika
4 chicken thigh fillets, chopped
1 onion
1 red pepper
300g risotto rice
650ml chicken stock

Preheat the oven to 150oC/300oF/GAs Mark 2.
Place a large lidded casserole dish in the oven to warm.
Heat a large pan and fry the chorizo until the oils are released.
Add the paprika, onion, pepper and chicken and fry on a medium heat until the chicken is browned.
Keep stirring to stop any thing burning. Add the rice and stir until coated in the chorizo oil.
Add the chicken stock and bring to the boil.
Gently pour into the casserole dish, cover and place in the oven for 30 minutes.
Remove the rice from the oven and stir thoroughly.
Add a little water or stock if needed and return to the oven for 5 more mintutes.
Stir again and serve.
Back to more freefrom meat recipes