Michelle's FreeFrom Ham Kebabs
Wheat, gluten, corn, egg, soya, dairy & nut free; can be nightshade free
When I wrote this recipe we had had nothing but rain for three weeks - I hope that by the time you read it you will be able to barbecue the ham in the garden!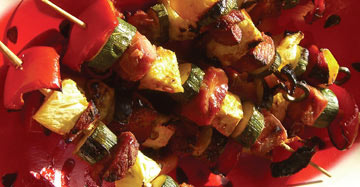 750g / 1lb 10oz piece of unsmoked gammon (ham)
2 level tsp cumin
grated peel and juice 3 large limes
3 tbsp maple syrup
vegetables and fruit for the kebab sticks -
we used red and yellow peppers, courgette (zucchini) and fresh pineapple but feel free to use whatever you prefer, or what suits your diet
Cut the ham into bite-size cubes.
Mix the cumin with the lime peel and juice and the maple syrup in a bowl just big enough to take the ham.
Add the ham, mix well, cover and leave to marinate for 24 hours, turning every now and then so all the ham gets bathed in the marinade.
Cut up the vegetables and fruit that you are using and string them onto kebab sticks with the ham pieces.
Cook on a barbecue or under a grill basting with the remaining marinade.

Serves 6 - per portion
300cals - 31g protein
16g total fat - 5g sat / 7g mono / 3g poly
9g carbohydrate of which 8g sugar
1g fibre - 1481mg sodium / 3.7 salt
50mg calcium
Good Source of: Vitamins B1, B3, B6 & C
Back to more freefrom meat recipes
Back to Foods Matter freefrom recipes home