FreeFrom 'FreeNut' peanut-free chicken satay

Corn, dairy, egg, gluten, lactose, nut, and wheat free


Assistant Editor Cressida was so impressed by Eskal's FreeNut butters that we tried this week that she went off and devised this excellent satay recipe for our lunch!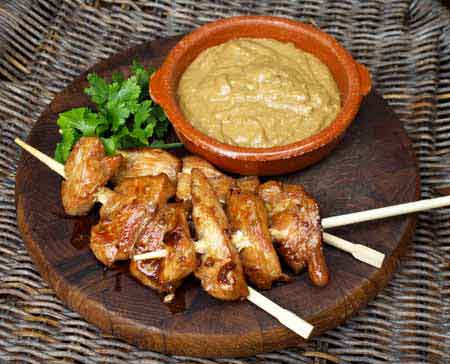 2 med-large chicken breasts
Wooden satay sticks
For the marinade:
2 tbsp gluten/wheat-free tamari
soya sauce
2 large cloves garlic
1 tbsp runny honey
For the satay sauce:
6 tbsp 'Freenut' butter
2 tbsp palm sugar (or any dark
sweetner)
1 inch ginger roughly chopped
1 red/green chilli, deseeded or not depending on how fiery you want your sauce
2 tbsp gluten/wheat-free tamari soya sauce
juice of 1 large lime
2 sticks of lemongrass
sprig of coriander for garnish
Preparing the chicken and marinade:
Cut the breasts into finger-sized strips and put in a bowl. Finely chop the garlic and add to the bowl along with the tamari and honey. Make sure chicken is completely coated with the marinade and leave to marinate for minimum 30 minutes, preferably overnight.
For the satay sauce:
Remove the tough outer leaves of the lemon grass and roughly chop, adding to a magimix, blender or pestle and mortar (though this may take a while!) along with the roughly chopped ginger, chilli. Add the' freenut' butter, palm sugar, tamari and lime juice, then blend until the mix is a chunky, runny paste. You may want to play around with these amounts depending on how chilli or sweet or limey you like your sauce. Put into a pretty bowl and garnish with coriander.
Cooking the chicken:
You can either grill, barbeque or stir fry your chicken – we decided to fry it.
Coat a frying pan in a thin layer of olive oil, just enough to stop the chicken from sticking to the pan. Cook the chidken win the marinade on a medium heat for five minutes, turning once, until cooked, then turn up the flame and turn until the chicken becomes golden brown and the honey and soya marinade becomes thick and sticky. Remove from pan and allow to cool enough to handle the chicken onto the satay sticks. Serve alongside the satay sauce whilst still warm.
Serves 6 – per portion
174Calories
16g Protein
8g Fat (2g Sat fat, 3g mono, 2.5g poly)
10g Carbohydrate of which 8g Sugar
0.8g Fibre, 796mg Sodium, 2g salt
13mg Calcium

Good Source: Vitamin B12
Back to more freefrom meat recipes