Michelle's FreeFrom Faisant aux Chataignes
Dairy, wheat, gluten, corn, soya, egg and nightshade free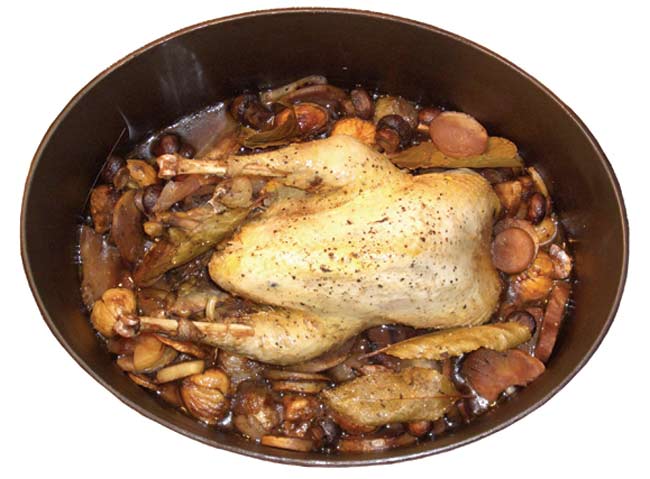 300g / 11oz fresh or tinned chestnuts
3 small parsnips
4 tbsp olive oil
16 shallots, peeled
32 button mushrooms, wiped
1 large pheasant
6 bay leaves
200ml / 7fl oz gluten & wheat-free chicken or vegetable stock
200ml 7fl oz light red wine
sea salt and freshly ground black pepper
If you are using fresh chestnuts, heat the oven to 180C/ 350F/Gas mark 4, spread the chestnuts out on a rack and bake for 30 minutes or until they peel easily. Remove from the oven, cool slightly and peel.
If you are using tinned chestnuts, drain and set aside.
Scrub the parsnips and slice into thin discs. Heat 3 tbsp of the oil in a wide pan and fry the parsnips briskly for several minutes till lightly browned on both sides.
Add the shallots and continue to cook for another few minutes, then remove both with a slotted spoon into a heavy, deep casserole.
Add the remaining tablespoon of oil to the wide pan and briskly fry the mushrooms for a few minutes then add to the casserole.
Stuff a couple of bay leaves inside the pheasant then lay the casserole on top of the vegetables. Arrange the remaining bay leaves around the bird, then pour over the stock and the red wine. Grind over a little sea salt and black pepper.
Bring slowly to the boil, then cover the casserole and reduce the heat until the pot is only just simmering. Simmer gently for one hour. Add the chestnuts and continue to cook for a further hour.
Ideally, leave to 'mature' for several hours or overnight then reheat to serve with a green vegetable or salad.
NB If you cannot eat nuts, leave out the chestnuts and increase the shallots to 20 and the mushrooms to 40.
Add 100g / 3 1/2oz stoned prunes when you would have added the chestnuts.
Serves 4 - per portion
500cals - 35g protein
21g total fat - 4g sat / 12g mono / 3g poly
41g carbohydrate of which 12g sugar
7g fibre - 173mg sodium / 0.4g salt
Good Source of: Vitamins B1, B6, iron & zinc
Back to more freefrom meat recipes