Michelle's FreeFrom duck breasts with waterchestnuts and redcurrants
Corn, dairy, egg, gluten, lactose, nighshade, nut, soy and wheat free
This recipe turned out to be even more delicious than I had expected! The sharpness of the redcurrants and the crunchy-ness of the water chestnuts setting the rich duck meat off really well. Removing the skin from the breasts also prevents the dish being too fatty.
I served it with a celeriac and kale mash whose relative bitterness contrasted well with the acid sweetness of the fruity sauce.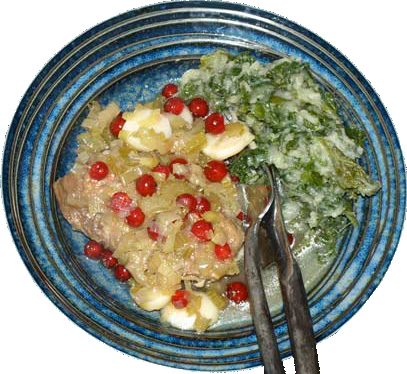 Serves 4
2 level tbsp coconut oil or 3 tbps olive oil
2 medium leeks, sliced very thinly
2 sticks celery, chopped very small
4 duck breasts, skin removed
450ml/7floz apple juice, elderflower wine
or, which is what I used, apple and elderflower mixed
225g/8oz tin water chestnuts, drained
80g/3oz redcurrants, stems removed
sea salt and freshly ground black pepper
In a wide pan heat the oil and add the leek and celery. Fry very gently for 10 minutes or until they are quite soft.
Add the duck breasts and the apple/elderflower, cover the pan and simmer gently for 30 minutes or until the breasts are cooked.
Halve the water chestnuts crossways and add to the dish along with the redcurrants.
Mix well but gently and continue to cook gently for 4–5 minutes to amalagate the flavours.
Season to taste – I found that the dish needed very little seasoning.
For the mash, peel, cubes and steam a head of medium celeriac then purée in a food processor with a little coconut oil, butter, spread or olive oil, depending on what you can eat.
Trim, then steam approx 250g/9oz kale then mix the kale into the celeriac mash. Season to taste.
Serves 4 – per portion:

423 Calories
41g Protein
22g Fat (5g Sat fat, 12g mono, 13g poly)
17g Carbohydrate of which 15g Sugar
2.5g Fibre, 238mg Sodium, 0.6g salt
63mg Calcium

Good Source: Fe, Cu, Zn, B1, B2, B6, B12, Vit C, Niacin
Back to more freefrom meat recipes