Michelle's Freefrom Coq au vin with Celeriac and Artichoke puree

Wheat, gluten, corn, soya & egg free; can be dairy, nightshade & nut free

To get the best out of this recipe you need to leave yourself a couple of days so that it can marinate in the wine for at least 24 hours and then be cooked very slowly.
In a classic coq au vin, the cooking juices would be thickened with a beurre manié but I prefer the slightly cleaner taste of the unthickened juices.
You can make the purée with celeriac on its own or substitute sweet potatoes for the potatoes if you cannot eat nightshades. Celeriac on its own tastes good but you will not get as smooth a purée. Jerusalem artichokes have a quite short season so I am always tempted to include them in everything when they are around. If you find the flavour too strong or the effect too great, leave them out!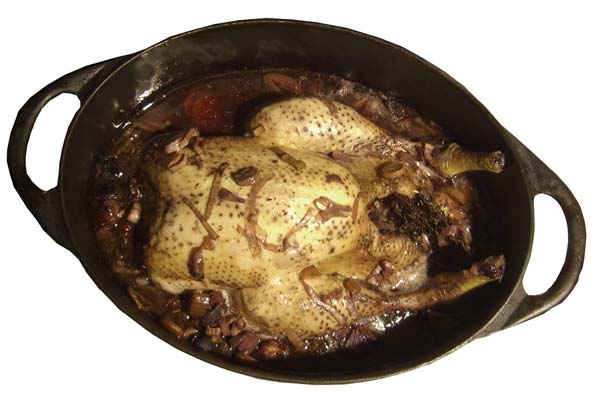 1 large leek, trimmed and finely sliced
2 sticks celery, washed and chopped small
2 carrots, washed and sliced in thin rounds
20 button mushrooms, halved or sliced
2 sprigs thyme (or 2 tsp dried) and 4 bay leaves
150g / 5oz dried chestnuts (optional)
500ml / 17fl oz red wine
250ml / 8fl oz gluten/wheat-free chicken or vegetable stock
I large chicken - around 3 kilos / 7lbs
Mix the vegetables, herbs and the chestnuts, if you are using them, together in a bowl large enough to hold the chicken. Heat the wine and stock in a pan, or in a microwave for 3 minutes - do not boil. Pour over the vegetables and mix well. Push the chicken well down into the marinade, cover and leave in a cool place (a larder or fridge) for 12 hours. Turn the chicken over in the marinade and leave for
another 12 hours.
Transfer the chicken to a heavy pan or casserole and pour over the marinade and vegetables. Cover and bring slowly to the boil. Turn down immediately and cook very slowly - scarcely simmering - for 3-4 hours. Leave to cool in the pan. To serve you just need to reheat the chicken in its juices and serve with the purée and a green vegetable.

Celeriac Puree
2 large onions, peeled and sliced thickly
3 tbsp olive oil
1.5 kilo celeriac
1 kilo potatoes or sweet potatoes
500g Jerusalem artichokes
2 tbsp butter or dairy-free spread
sea salt and freshly ground black pepper
Fry the onions gently in the oil until quite soft and well tanned - this will take 20-25 minutes. Meanwhile peel the celeriac, artichokes and sweet potatoes (if you are using them) or scrub the potatoes.
Cut in large dice and steam till soft then mash with the
butter or spread and a little sea salt and black pepper.
Beat in the onions and adjust the seasoning to taste.
Serve with the chicken and a green vegetable.
Serves 6 - per portion
400cals - 45g protein- 7.5g total fat - 2g sat / 3g mono / 1g poly
22g carbohydrate of which 7g sugar
4g fibre - 294mg sodium / 0.7g salt
Good Source of: Vitamin B1, B2, B6, B12, iron & zinc
Back to more freefrom meat recipes