Michelle's Freefrom Chickpea Chilli
Dairy, wheat, gluten, corn, soya, egg & nut free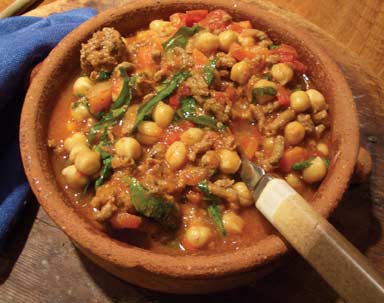 400g / 14oz dried chickpeas or 2 x 400g / 14oz can of cooked chickpeas
2 tbsp olive oil
2 large onions, peeled and roughly chopped
1 large carrot, scraped and cut in small cubes
1 large red pepper, de-seeded and diced
2 (for pleasantly spicy) - 4 (for hot!) dried red chillis,
de-seeded and cut in small squares
500g / 1lb 2oz minced (ground) beef
2 heaped tbsp tomato purée
1 x 400g / 14oz can chopped tomatoes
300ml / 10fl oz wheat & gluten-free stock
sea salt
large handful of flat leaf or curly parsley
If you are using dried chickpeas put to soak in plenty of cold water overnight. Discard the water and bring the chickpeas to the boil in a new pan of water. Boil for 25-30 minutes or until they are just softening then drain and set aside.
Heat the oil in a heavy pan and the onions, carrot, red pepper and chillis. Cook fairly briskly but without burning for 10 minutes.
Add the mince and continue to cook briskly for a further 5 minutes.
Add the tomato purée, tinned tomatoes and the stock along with the chickpeas if you have cooked them. Bring back to the boil, cover and simmer gently for 45 minutes. If you are using tinned chickpeas, simmer the mixture for 30 minutes without the chickpeas, then drain them and add them to the mixture for the remaining 15 minutes.
Season to taste with sea salt.
Just before serving chop the parsley and add it to the chilli. Serve with a cooling green salad or vegetable.
Serves 4 - per portion
500cals - 42g protein
23g total fat - 7g sat / 10g mono / 3.5g poly
41g carbohydrate of which 11g sugar
10g fibre - 600mg sodium / 1.5g salt
Good Source of: Vitamins B1, B12, iron & zinc
Back to more freefrom meat recipes