Michelle's FreeFrom chicken with chilli, tomatoes, sweet potato and banana
Corn, dairy, egg, gluten, lactose, nut, soya and wheat free
This is as colourful and tasty a dish as it looks with a lovely hint of the Caribbean. We served it with a quinoa and courgette risotto.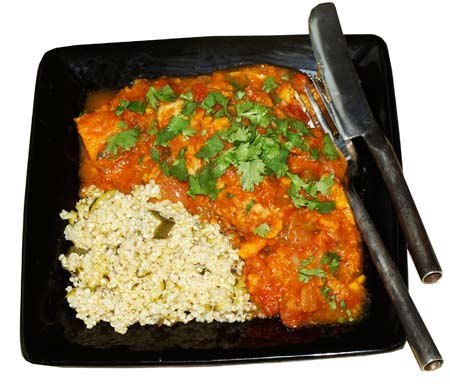 Serves 6
2 tsbp olive oil or coconut oil
1 very large or 2 medium onions,
peeled and sliced thickly
1–2 large red chillis, depending in their heat and how hot you want the dish to be, deseeded and cut into small pieces
3 large stalks celery, washed and chopped fairly thickly
1 large chicken, skinned and jointed
2 medium size sweet potatoes, peeled and cut into medium size chunks
2 x 400g/14oz tins chopped tomatoes
4–5 large bay leaves
2 moderately ripe bananas, sliced quite thickly
sea salt and freshly ground black pepper

Heat the oil in a deep casserole, big enough to hold the chicken. add the onions, chilli pieces and celery and fry moderately briskly until the onion is starting to soften.
Add the chicken pieces and continue to fry briskly until they are slightly coloured on all sides, then add the sweet potatoes and the tomatoes with the bay leaves.
Mix all well together then cover the pan and bring back to a simmer.
Simmer gently for 45–60 minutes by which time the chicken and sweet potato should be cooked and the tomatoes will have turned into a sauce. Add a little extra water if you want more juice.
Season generously, then add the banana and continue to cook for a further 10–15 minutes by which time the banana will have disappeared into the sauce leaving a delicious, slightly tantalising flavour.
Serve with lots of rice or the quinoa risotto above and follow with a green salad.
Serves 6 – per portion:
322 Calories
40g Protein
6g Fat ( 1g Sat fat, 3g mono, 0.8g poly)
30g Carbohydrate of which 17g Sugar
5g Fibre, 180mg Sodium, 0.45g salt
60mg Calcium

Good Source: Mg, Niacin, B6
Back to more freefrom meat recipes