Michelle's FreeFrom 'flu-beating chicken soup
Corn, dairy, egg, gluten, lactose, nut, soya and wheat free
This was a rather 'loose' recipe that went on my blog – but I didn't see why site visitors should not also have the benefit! The theory is that, taken in sufficient quantity, the soup will knock any impending cold or dose of 'flu firmly on the head!
The picture below is the very last of the last brew…. And, before anyone objects to the little globules of fat on the top….. The fat is an essential element and is what gives the soup both it flavour and its goodness. A good Jewish chicken soup will be judged by the amount of glistening and delicious chicken fat it incorporates.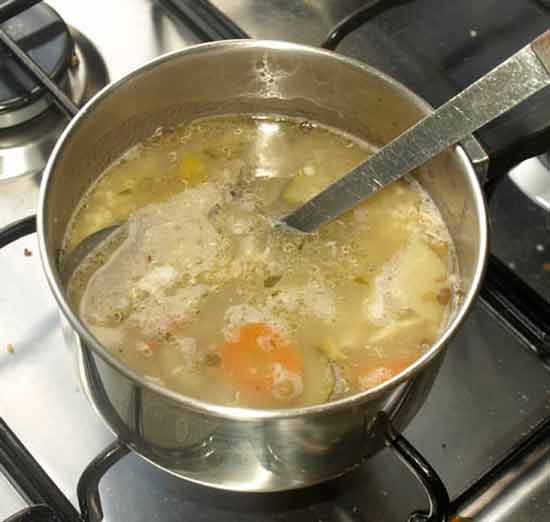 The soup is, naturally, totally 'freefrom' and is very simple, the only requirements being an organic (or at least freefrange) chicken and a fridge wells stocked with vegetable remains!
Put chicken in large pot and cover it generously (well over the top) with filtered water with a teaspoonful of rough sea salt – I use the wonderful gray, damp salt from the Brittany coast.

Then add some of any or all of the following, scrubbed, chopped fairly roughly but not left so large that you will not be able to get the bit on your spoon… It really does not matter how much you add as, if you run out of space, you can always transfer to a larger saucepan…. And if your fridge contains some vegetable goodies that I have not mentioned, do not hesitate to include!

onions
garlic
leeks
carrots
parsnips
turnip
mushrooms
celery
celeriac
tomatoes
broccoli stalks
fine green beans
Savoy cabbage (not too much)
sliced Brussel sprouts (not too many)
spinach or other green leaves
parsley/parsley stalks chopped up
bay leaves (lots)
black pepper corns
handful of yellow split peas or green lentils

Bring all very slowly to the boil, then cover and simmer very gently for a minimum of 1 1/2 hours but for up to 3 hours. Adjust the seasoning to taste – and eat! By this time the chicken will have entirely disintegrated so you do need to take care to remove the bones as you go – but this is a relatively small price to pay.

And, of course, the remains just get better as the days go on – and you can add extra liquid as needed.

There are those who feel that it is improved by adding wine or stock to the cooking liquid but I actually do not agree, preferring the fresh, clean flavour of just the chicken and vegetables.
Back to more freefrom meat recipes