Michelle's FreeFrom Chicken Pie with Fennel and Radicchio
Corn, gluten, nightshade, nut & wheat free; can be dairy, egg & soya free depending on the pastry
A very delicious chicken casserole that works really well as a pie. Use your own favourite gluten-free pastry recipe – or be lazy and use one of the several good ready-made pastries now on the market .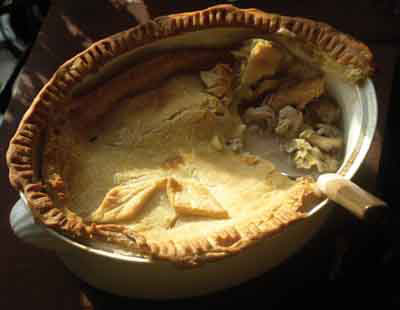 2 kilo / 4 1/2lb chicken thighs
1 onion, 1 carrot, 3 mushrooms, bouquet garni
3 tbsp olive oil
1 large or 2 small leeks, finely sliced
1 large head fennel, diced
1 head radicchio, stem removed and chopped
400ml / 13fl oz oat (or soya or goat) cream
sea salt and freshly ground black pepper
400g / 14oz gluten and wheat free pastry
extra soya milk or egg to brush the pastry top
Put the chicken thighs in a large pan
with the onion, carrot, mushrooms and bouquet garni. Fill with fresh filtered (if possible) water.
Bring to the boil, cover and simmer gently for 1 hour. Strain the stock through a colander into a bowl. Carefully remove the vegetables into the bowl with the stock and use for soup.
Remove the flesh from the chicken thighs, discard the skin and bones and put the thighs into a pie dish.
Meanwhile, heat the oil in a heavy pan. Add the leeks and fennel, stir well, cover and sweat gently for 15–20 minutes.
Heat the oven to 190–210C/375–425F/Gas mark 5–7 depending on the pastry that you are using.
When the leeks and fennel are soft, add the chopped radicchio, mix well in, then add the cream and stock.
Mix well again and season to taste. Transfer to the pie dish.
Roll out the pastry and top the pie, brush the top with milk or egg and transfer to the oven.
Bake for 25–35 minutes depending on the pastry.
Serve hot or at room temperature with a green vegetable or salad.
Serves 6 – per portion
451cals – 14g protein
21.5g total fat – 5g sat / 6.5g mono / 8.5g poly
53g carbohydrate of which 3.5g sugar
2.9g fibre – 457mg sodium / 1.1g salt
67mg calcium
Good Source of: Vitamin B6, B12, C, folate & iron
Back to more freefrom meat recipes