Michelle's FreeFrom Chicken with Aubergine (Eggplant) and Dill Sauce
Wheat, gluten, corn, soya, egg & nut free; can be cow's milk free
A fresh a delicious salad for a summer evening. The combination works equally well with salmon steaks.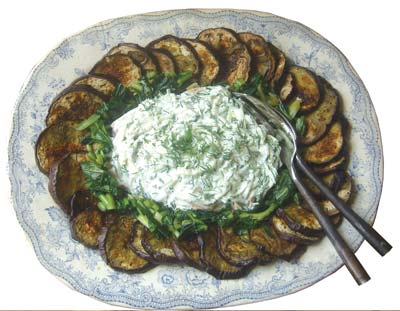 3 medium aubergines (eggplants) , wiped and thinly sliced
olive oil, sea salt and freshly ground black pepper
3 tbsp olive oil
3 cloves garlic, thinly sliced (optional)
400g / 14oz choi sum or other similar
leaves, chopped roughly
600g / 1lb 5oz cooked chicken breast, sliced thinly
4 tsbp egg-free mayonnaise – we used the Plamil plain organic
2 tbsp plain yogurt (cow, goat, sheep or soya)
15cm / 6" (approx) of cucumber, grated
10 sprigs of fresh dill, finely chopped
juice 1–2 lemons
sea salt and freshly ground black pepper
Lay the aubergine (eggplant) slices out on a grillpan, drizzle with a little olive oil and sprinkle with a little sea salt and black pepper. Grill (broil) till well tanned but not burnt; turn and repeat the process.
Meanwhile, heat the oil in a wok and briskly cook the garlic, without burning. Add the choi sum and continue to cook briskly for a couple of minutes or until it is just wilted - remove from heat.
Lay the aubergine(eggplant) slices round a dish with the choi sum, then lay the chicken slices out in the middle.
In a bowl mix the mayonnaise with the yogurt and cucumber. Add most of the dill, then lemon juice and season to taste.
Spoon the sauce over the chicken and sprinkle with the remaining dill and serve with a green salad.
Serves 6 – per portion
290cals – 27g protein
19g total fat – 3g sat / 13g mono / 3g poly
3g carbohydrate of which 3g sugar
2g fibre – 182mg sodium / 0.4g salt
135mg calcium
Good Source of: Vitamin B6, C & niacin
Back to more freefrom meat recipes