FreeFrom Chicken breasts with anchovy and cauliflower
Corn, dairy, egg, gluten, lactose, nightshade, nut, soya and wheat free
This is the simplest but the tastiest of chicken dishes. I served it with cauliflower but you could use any other vegetable if you prefer.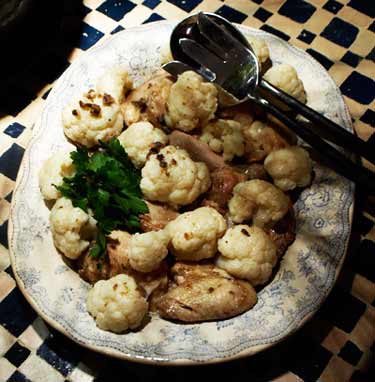 4 large or 8 small chicken joints – 4 breasts of 8 thighs/drumsticks
1x 50g / 2oz can anchovies with their oil
1 tbsp olive oil
1 largish cauliflower
juice 1 large lemon
freshly ground black pepper
Skin the chicken joints and dry them on
kitchen paper.
Tip the anchovy oil into a wide pan, then
chop the anchovies small and add them to the oil.
Fry gently for a couple of minutes to break
up the anchovies.
Add the chicken pieces and fry briskly on all sides for several minutes or until they are nicely browned. You may need to add a little extra olive oil depending on how much you managed to get out of the tin.
When the chicken is nicely tanned all over, reduce the heat and cover the pan tightly with a lid. Cook gently for 15–20 minutes or until the chicken is cooked through.
Meanwhile, break up the cauliflower into florets and steam for around 5 minutes or until it is cooked but still slightly crunchy.
Remove the lid from the chicken and squeeze over the juice of a large lemon.
Arrange the chicken pieces with the cauliflower in a warmed serving dish and pour over the juices from the pan.
Grind over some black pepper, decorate with a green leaves of some kind and serve at once with a green vegetable.
Serves 4 – per portion
Calories 243 Kcals
43g Protein
6.5g Fat (1g Sat fat, 3.5g mono, 1g poly)
3.4g Carbohydrate of which 2.9g Sugar
2g Fibre, 591g Sodium,1.5g salt
68mg Calcium

Good Source: Vitamin B1, B12.
Back to more freefrom meat recipes