Creamy coconut chicken with okra and lime
Corn, dairy, egg, gluten, lactose, nuts, soya, wheat free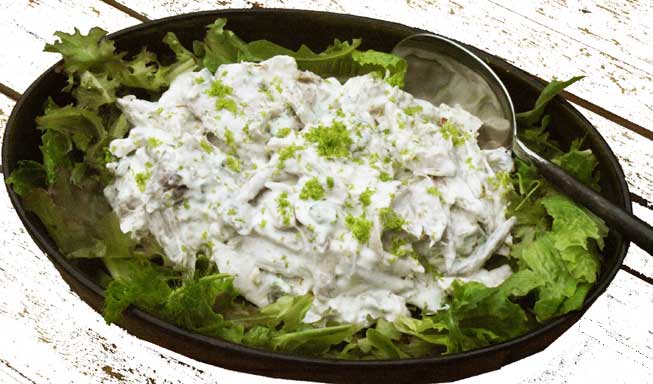 This dish is made with coconut yogurt so that it is dairy free but if gluten/wheat is your problem rather than dairy you could also make it with Greek cow's milk or sheep milk yogurt.
If you want to make it for fewer people just reduce the quantities eg. for four, reduce all by 50%.
Serves 8
800g cooked chicken or 2 small chickens, simmered with a selection of vegetables for 2 hours or until the flesh is falling off the bone, then cooled and the flesh removed. If you cook the chickens from scratch then you get a beautiful pot of chicken soup as well as your chicken dish!
1 heaped tbsp coconut oil
3 cloves garlic, peeled and chopped very small
3 red chillis, de-seeded and chopped very small
1/2 small leek, very finely sliced
40g piece of ginger, peeled and chopped very small
10 ladies fingers/pieces of okra, topped and tailed and finely sliced
rind of 2 limes and the juice of 1
sea salt
green leaves
Pull the chicken flesh into bite sizes pieces.
Melt the coconut oil in a small frying pan and very gently cook the garlic, chillis, leek and ginger until they are all quite soft.
Pour the coconut yogurt into a largish bowl and add the garlic mixture along with the rind and juice of one of the limes. Mix thoroughly and season with salt.
It needs to be the consistency of pouring cream so if it is too thick, add a little chicken stock (if you have cooked the chicken) or boiling water to thin the sauce.
Gently stir in the chicken making sure that the chicken pieces are well covered in sauce.
Line a serving dish with green leaves and pile the chicken in the middle.
Sprinkle over the grated rind of the remaining lime and leave for an hour or so at room temperature for the chicken to absorb the flavours of the sauce.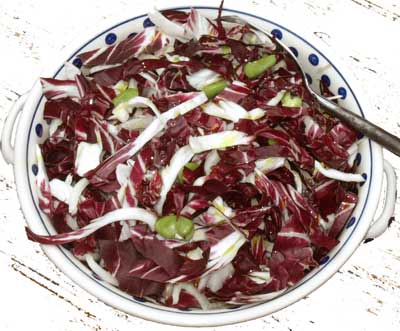 We served the chicken with potatoes and fresh beetroot and a radicchio, fennel and broad bean salad.
For the potato salad, steam baby potatoes until cooked and set aside. Steam the beetroot (approximately 50% of the weight of the potatoes) cut into large dice along with their stems, chopped, for 5-8 minutes. Then add the leaves, shopped and continue to steam for a further 4-5 minutes or until the leaves are cooked. Mix with the potatoes and dress, while still warm, with salt, pepper, cider vinegar and olive oil.
For the radicchio salad, blanch the broad beans the skin them. Then mix with chopped fresh radicchio and sliced fennel and dress with olive oil, lemon or cider vinegar and salt and pepper.
Back to more freefrom meat recipes