Michelle's FreeFrom Chicken with Pomegranate
Wheat, gluten, corn, nightshade & nut free; can be dairy or soya free
Fresh pomegranate seeds are ideal for this dish and are now available in a number of supermarkets as well as middle eastern stores but, if you cannot find any fresh ones you can use dried seeds (also from a middle eastern store), soaked in boiling water for 10-15 minutes.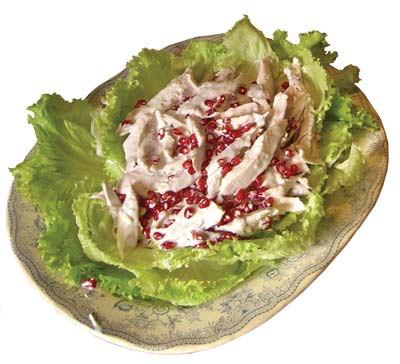 1 medium-large chicken
onion, carrot, celery, mushrooms, bouquet garni
1 large pomegranate
300ml / 10fl oz plain cow, sheep, goat or soya yogurt
juice 1 large lemon
sea salt and freshly ground black pepper
50ml / 1 1/2fl oz boiling water
green leaves
Put the chicken in a large pan with the
vegetables and bouquet garni. Cover and bring slowly to the boil. Simmer for 45-60 minutes or until the chicken is cooked.
Allow to cool then remove from the pot. Remove the flesh from the chicken and set aside.
Return the bones to the pot and cook for another hour to make wonderful chicken stock.
Meanwhile, de-seed the pomegranate. This is a fiddly job (I suggest you wear rubber gloves if you do not want your fingers stained black) but well worth it.
Add the yogurt to the pomegranate seeds in a bowl. stir well then add the lemon and seasoning to taste, plus the boiling water.
Use 3/4 of this to dress the chicken, reserving the rest to spoon over just before serving.
When ready to serve, arrange green leaves on a dish, spoon over the chicken and the remaining sauce and serve at once.
We served it with the quinoa salad below.
Serves 6 - per portion
272cals - 38g protein
10g total fat - 3g sat / 4g mono / 2g poly
9g carbohydrate of which 8g sugar
2g fibre - 186mg sodium / 0.5g salt
104mg calcium
Good Source of: Vitamin B1, B2, B3, B6, magnesium, selenium
Back to more freefrom meat recipes