Michelle's Chicken oven baked with ginger and yellow split peas – and chicken soup...
Corn, dairy, egg, gluten, nightshade, nut, soya and wheat free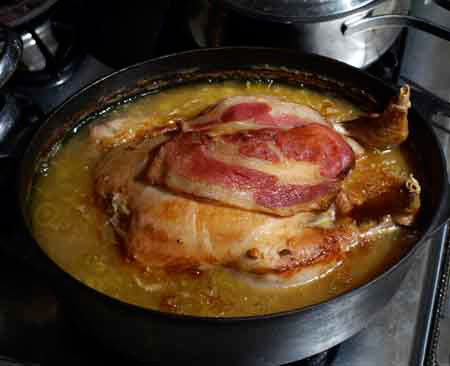 This is a really delicious dish – and has the extra bonus of giving you some free, and if anything, even more delicious soup at the end!

500g / 1lb 2oz yellow split peas
3 tbsp olive oil
3 leeks, trimmed and sliced
6 cloves garlic, peeled and sliced
25–50g / 1-2oz ginger (depending
on how much you like ginger) peeled and cut into matchsticks
1 x 2–3 kilo / 4 1/2-6lb chicken, organic if possible
2 medium onions and 2 extra cloves garlic
1 tsp herbes de Provence
500ml / 17fl oz chicken stock
(made from the giblets if your chicken was organic and came with giblets)
sea salt and 1 tsp black peppercorns
2–3 large rashers back bacon
2 bouquets garni
Soak the peas for 3–4 hours in cold water. Strain off the water, put in a pot covered with fresh cold water, bring to the boil and simmer for 30 minutes. Strain off the water and set aside.
In a heavy pan heat the oil and add the leeks, garlic and ginger. Fry gently, stirring regularly, for 10–15 minutes or until they are quite soft.
Add the chick peas and the stock with a little salt and the peppercorns.
Peel the onion and garlic cloves and put inside the chicken along with the herbs.
Sit the chicken in the pan so that it sinks into the peas and stock. Cover and simmer gently for 1 hour.
Meanwhile, heat the oven to 180C/350F/Gas mark 4.
Remove the lid from the pot and cover the top of the chicken with the bacon rashers. Bake, uncovered, for a further hour to allow the top of the chicken and the bacon to get brown and crisp.
Remove the chicken from the pot to carve. Use a slotted spoon to serve the peas with the chicken and a green vegetable or salad.
When the meal is over, strip any remaining chicken from the carcass and return to the pot. Add another 700–800ml / 24-27fl oz of stock or water and the bouquets garnis, bring back to the boil and simmer for a further 45–60 minutes to make the most delicious soup.
Serves 6 – per portion
721 cals - 79g protein
23g total fat – 6g sat / 11g mono / 4.5g poly
53g carbohydrate of which 5g sugar
7g fibre – 670mg sodium / 1.7g salt
70mg calcium
Good Source of: Vitamin B1, B2, B6, niacin, magnesium, iron , zinc & folate
Back to more freefrom meat recipes