Michelle's Freefrom Chicken and Courgette Pie
Gluten, lactose, milk, nut, peanut, sesame, soya & wheat free ; can be corn & nightshade free
Serves 6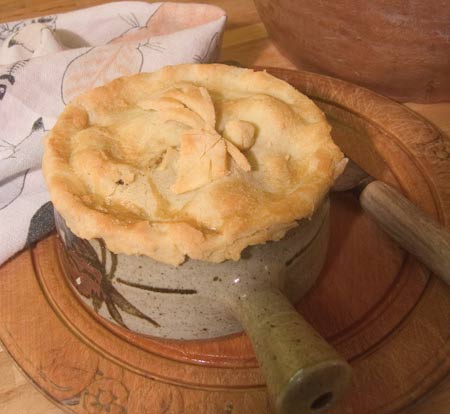 Ingredients
250g / 9 oz gram (chickpea) flour

150g / 5½ oz rice flour

1 level tsp xanthan gum

200g / 7 oz vegetable fat or dairy free spread

120ml / 4fl oz chilled water
12 shallots

3 tbsp olive oil

50g / 2 oz piece fresh ginger root

400g / 14 oz piece celeriac root

1 medium chicken or 6 chicken joints

400ml / 13fl oz coconut milk

sea salt and freshly ground black pepper

3 courgettes (zucchini), sliced

150g / 5 oz fresh baby spinach leaves or larger leaves torn into small pieces

20g / 1 oz corn or potato flour

1 egg
Method
To make the pastry, sift the flour with the xanthan gum then rub in the fat either by hand or in a food processor.

Add the water and mix gently till it pulls together.
Wrap in clingfilm and set aside.
Peel the shallots and put in a wide pan (big enough to take the chicken joints) with the oil and cook gently.

Peel the ginger root and cut into thin matchsticks then add to the shallots.

Peel the celeriac and cut into small dice (the size of your thumbnail) - add to the pan and continue to fry gently.

If you are using a whole chicken, joint it then add the joints to the pan and fry until lightly tanned on all sides.

Add the coconut milk and season well, cover the pan and simmer for 30 minutes.
Meanwhile, clean the courgettes (zucchini) and slice them thickly.

Add them to the pan along with the fresh spinach and continue to simmer, covered, for another 15 minutes.

Meanwhile heat the oven to 180C/350F/Gas mark 4.

In a small bowl mix some of the cooking liquid into the corn or potato flour until it makes a smooth paste.

With a slotted spoon remove the chicken and vegetables into a pie dish.

Add the remaining cooking liquid to the corn or potato flour, return to the pan and cook gently for a few minutes, stirring continually, until it thickens.
Adjust the seasoning to taste and pour over the chicken and vegetables.
Roll out the pastry and top the pie.
Don't worry if the pastry falls apart slightly – gluten-fee pastry is always more crumbly than normal wheat-based pastry - just patch the tears with spare pastry and use a little water to stick the joins together then decorate with pastry leaves or balls and brush with beaten egg.
Bake for 25-35 minutes or until the top is brown and crisp.

Serve at once with an extra green vegetable and rice or a mashed root vegetable.
Serves 6 - per portion
715cals - 41g protein
44g total fat - 19g sat / 14g mono / 7g poly
42g carbohydrate of which 4.5g sugar
5g fibre - 494mg sodium / 1.2g salt
159mg calcium
Good Source of: Vitamin B6, selenium, iron, zinc, magnesium, calcium & folate
We have over 800 delicious freefrom recipes on this site all of which are gluten free, most of which are dairy and lactose free and many of which are free of most other allergens. Please go to the following sections to try them out: