Michelle's Freefrom Roast Chicken with Aubergine and Tomato
Corn, egg, gluten, lactose, milk, nut, peanut, sesame, soya & wheat free
The tomatoes have a wonderfully intense flavour.
Serves 6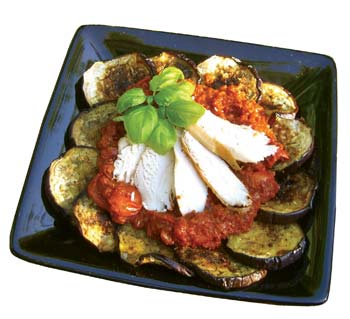 Ingredients
sea salt, freshly ground black pepper

1 large or 2 small chickens

4 tbsp olive oil

4 medium onions, peeled and chopped in a food processor

4 large cloves garlic, peeled and chopped in a food processor

2 heaped tsp each dried thyme and oregano

5 tbsp tomato purée

1 kilo / 2lb 3oz fresh plum tomatoes, halved

100ml / 3fl oz white wine

2 tsp muscovado (raw) sugar

2 large aubergines (eggplants) plus extra olive oil
Method

Heat the oven to 180C/350F/Gas mark 4.

Grate some sea salt and black pepper over the chickens and roast them for 1½ - 2 hours or until quite cooked.

Meanwhile, heat the oil in a wide pan and add the onions, garlic and herbs - cook gently for 10-15 minutes or until the onions have softened.
Add the tomato purée, tomatoes, wine and sugar and mix well.
Bring to the boil and simmer, uncovered, for 45 minutes or until they have cooked down to a thick sauce.
Season to taste.

While the tomatoes are cooking, slice the aubergines (eggplants) thinly and heat a grill (broiler) or griddle.
Grate sea salt and black pepper over the aubergine (eggplant) slices and dribble with olive oil.
Grill (broil) briskly until they are nicely browned then turn the slices over and repeat the process. Set aside.

To serve, lay the aubergines (eggplant) out on a serving dish.
Spoon the tomato purée onto them as a bed for the chicken.
Slice the chicken, arrange over the tomato and decorate with basil, parsley or coriander before serving with a green salad.
Serves 6 - per portion
400cals - 51g protein
14g total fat - 3g sat / 9g mono / 2g poly
16g carbohydrate of which 14g sugar
4g fibre - 169mg sodium / 0.4g salt
Good Source of: Vitamins A, B1, B6, folate, selenium, magnesium, & iron
We have over 800 delicious freefrom recipes on this site all of which are gluten free, most of which are dairy and lactose free and many of which are free of most other allergens. Please go to the following sections to try them out: