Freefrom Calves Liver with Mushrooms and 'Cream'
Corn, egg, gluten, lactose, milk, nightshade, nut, peanut, sesame, soya & wheat free
So simple and really delicious - but you must use calves liver to get the delicate flavour and texture. I also feel that the coconut oil gives the sauce a lovely rich, silky texture (it does not make it taste at all coconutty) but if you do not want to use it you could use goat's butter (if you can tolerate it) or olive oil. You can cook and serve the liver in four pieces (the way I prefer) or cut it into wide strips to cook.
Serves 4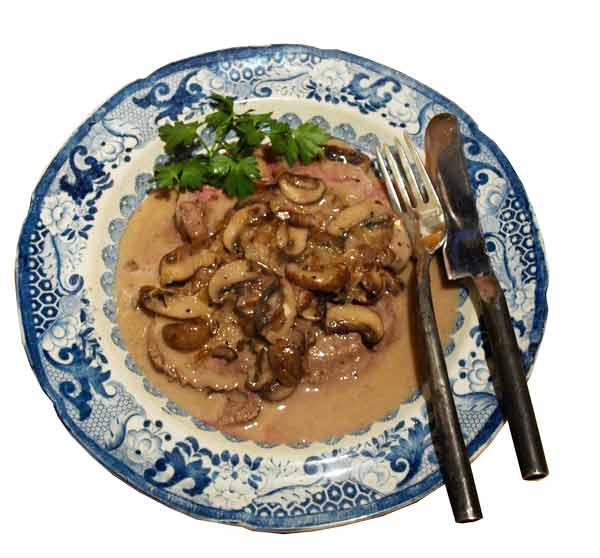 Ingredients
2 tbsp coconut oil

1 small onion, very finely chopped

1 large clove garlic, very finely chopped

100g / 4 oz button mushrooms, wiped and thinly sliced

4 pieces of claves liver approx 100g / 4 oz each

205ml / 8fl oz soya or oat cream

sea salt and freshly ground black pepper.
Method
Warm the coconut oil in a wide pan and very gently cook the onion and garlic until they are starting to become transparent.
Add the mushrooms and increase the heat slightly.
Cook fairly briskly until the mushrooms have given their juices.

Add the liver and the cream.
Amalgamate well and continue to cook gently for no more than three or four minutes (less if you cut it into strips) - you want the liver to be cooked on the outside but still pink in the middle.

Remove from the heat and season to taste with sea salt and freshly ground pepper.

Serve at once with green vegetables and new potatoes or rice.
We have over 800 delicious freefrom recipes on this site all of which are gluten free, most of which are dairy and lactose free and many of which are free of most other allergens. Please go to the following sections to try them out: