Michelle's Freefrom Boeuf Haché aux Epinards
Corn, egg, gluten, lactose, milk, nightshade, nut, peanut, sesame, soya & wheat free
This is a really tasty casserole and can be adapted to your own taste in mustard - seriously hot or mild and flavoursome. However, check the mustard ingredients carefully - good French mustard should be gluten/wheat-free while classic English mustard is made with wheat flour.
Serves 6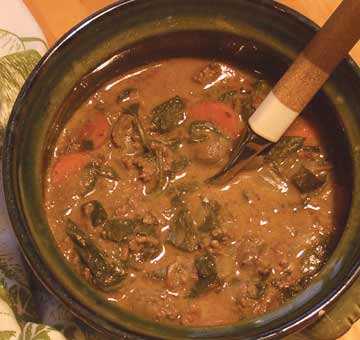 Ingredients
3 tbsp olive oil

3 medium onions, finely chopped

3 large carrots, scrubbed and cut into thin rounds

30 button mushrooms, wiped - kept whole or cut in half

600g / 1lb 5oz minced (ground) beef

4-6 tbsp French or wholegrain mustard - as hot or mild as you fancy (check ingredients for wheat or gluten)

180ml / 6fl oz red wine

220ml / 7fl oz water or gluten/wheat free stock

sea salt and freshly ground black pepper

300g / 11 oz fresh leaf spinach
Method
Heat the oil in a heavy pan and add the onions and carrots.
Cook briskly, but without burning, for 10 minutes.
Add the mushrooms and cook for a further 5 minutes.

Add the beef and cook briskly for another few minutes then add the mustard and mix well in.
Add the red wine, water or stock and some sea salt and freshly ground black pepper.
Bring to the boil, lower the temperature, cover and simmer gently for 1-1½ hours.

Adjust seasoning to taste.

Wash the spinach. If using baby leaves leave them whole; if larger leaves you will need to tear them into small pieces.

Add the spinach to the casserole and continue to cook for 3-4 minutes or until the spinach is just wilted.

Serve at once with lots of rice, baked or mashed potatoes (if you can tolerate nightshades) or another root vegetable.
Serves 6 - per portion
350cals - 30g protein
19g total fat - 6g sat / 10g mono / 2g poly
10g carbohydrate of which 8g sugar
4g fibre
454mg sodium / 1.1g salt
Good Source of: Iron, folate, Vitamins A, B6 & B12
We have over 800 delicious freefrom recipes on this site all of which are gluten free, most of which are dairy and lactose free and many of which are free of most other allergens. Please go to the following sections to try them out: