Michelle's Freefrom Minced Beef with Curly Kale
Corn, egg, gluten, lactose, milk, nut, peanut, sesame, soya & wheat free
A lovely rich all-in-one-pot meal. It benefits from being cooked in advance and left overnight for its flavours to 'mature'.
Serves 6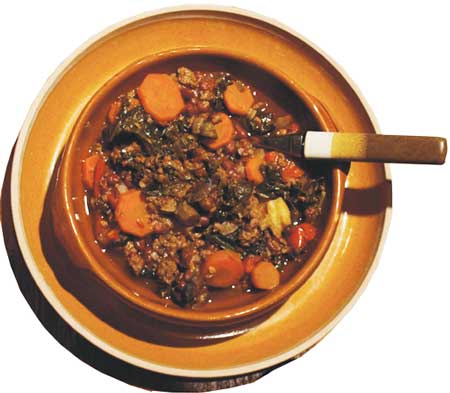 Ingredients
3 tbsp olive oil

4 red onions, peeled and chopped

4 cloves garlic, peeled and sliced

4–6 carrots, scrubbed and sliced in rings

1 large red pepper, cut in large dice

2 small green chillis, deseeded and chopped
very small

200g / 7 oz small button mushrooms, wiped and halved

½ head celeriac, peeled and cut in largish dice

3 tsp dried thyme

560g / 1¼ lb minced beef

2 x 400g / 14 oz tins (cans) chopped tomatoes

½ cup red wine and 100ml / 3fl oz Marsala

sea salt and freshly ground black pepper

1 x 400g / 14 oz tin (can) aduki beans

310g / 11 oz curly kale, washed, its stalks removed and chopped
Method
Heat the oil in a large pan and add the onions and garlic.
Cook gently for a few minutes then add the carrots, pepper, chillies and mushrooms.
Continue to cook for a further couple of minutes without burning.

Add the celeriac, thyme and the beef.
Again, stir well and continue to cook for a further few minutes.

Finally, add the tomatoes, wine and Marsala and some seasoning.
Bring to the boil, cover, reduce the heat and simmer gently for 40 minutes.

Add the aduki beans and the kale, mix well and cook for a further 10 minutes or until the kale is cooked.

Serve with baked potatoes and another green vegetable.
Serves 6 – per portion
428cals – 25g protein
21g total fat – 7g sat / 10g mono / 2g poly
28g carbohydrate of which 18g sugar
10g fibre – 403mg sodium / 1g salt
179mg calcium
Good Source of: Vitamins B1, B2, B6, B12, C, magnesium, iron, zinc & folate
We have over 800 delicious freefrom recipes on this site all of which are gluten free, most of which are dairy and lactose free and many of which are free of most other allergens. Please go to the following sections to try them out: