Michelle's Freefrom Beef and Chilli Stir Fry
Corn, egg, gluten, lactose, milk, nut, peanut, sesame & wheat free
Stir fries are quick and easy - and almost infinitely adaptable. Here are a couple of ideas but feel free to leave out any ingredients that you cannot tolerate and add others as you feel inspired. If possible, include the garlic, onions, chilli and ginger which give a far eastern feel to any dish - but the method of cooking works no matter what the ingredients.
Serves 6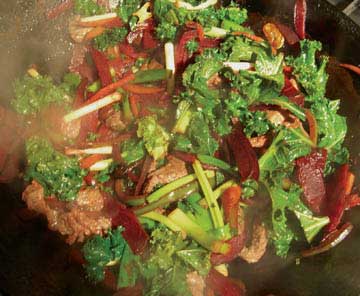 Ingredients
3 tbsp stir fry, olive or coconut oil

6 cloves garlic, peeled and sliced

1-2 red or green chillis, depending on how
hot you want your stir fry (the red are usually
quite mild, the green a lot hotter) with the pips removed and thinly sliced (remember to wash you hands well after handling the chillis)

50g / 2 oz peeled fresh ginger, cut into thin
matchsticks

3 small raw beetroot (beets), well scrubbed and then cut into thin, wide strips

20 button mushrooms, halved

1 large green pepper, pipped and thinly sliced

3 tbsp wheat/gluten-free soya sauce or tamari

1 tsp miso dissolved in 200ml / 7fl oz boiling water

4 large handfuls of curly kale, tough stems remove, washed and chopped roughly

400g / 14 oz fillet (tenderloin) or other tender cut of beef, cut into matchsticks no thicker than a pencil

20 spring onions (scallions), trimmed, halved lengthways if they are big, and cut in 5cm (2") pieces

extra soya sauce, sea salt and freshly ground black pepper to taste.
Method
In a wok or wide frying pan heat the oil and add the garlic, chilli and ginger.
Fry briskly but without burning for a couple of minutes then add the beetroot (beets), mushrooms and green pepper and continue to fry briskly for a further 5 minutes.

Add the soya sauce and the dissolved miso, stir well, cover the wok, reduce the heat and cook for 10 minutes or until the beetroot is starting to soften.

Add the curly kale, stir well in and cover again.
Continue to cook for another couple of minutes then remove the cover, add the beef and onions and increase the heat.

Cook briskly for a couple of minutes until the beef is lightly cooked then remove from the heat.

Adjust the seasoning to taste and serve at once.
Serves 6 - per portion
187cals - 19g protein
10g total fat - 2.5g sat / 6g mono / 1g poly
5g carbohydrate of which 4g sugar
2.5g fibre - 540mg sodium / 1.3g salt
Good Source of: Vitamin B6, B12, C, folic acid, iron & zinc
We have over 800 delicious freefrom recipes on this site all of which are gluten free, most of which are dairy and lactose free and many of which are free of most other allergens. Please go to the following sections to try them out: