Freefrom Chorizo Bean Pot
Corn, egg, gluten, lactose, milk, nut, peanut, sesame, soya & wheat free
A good hearty bean pot for a chilly winter evening. It keeps really well and improves with the keeping so you might want to double up the quantities and make it the base for several meals. If you wanted to make it vegetarian, either leave out the chorizo altogether or replace it with a similar quantity of cubed smoked tofu, added with the kale.
Serves 4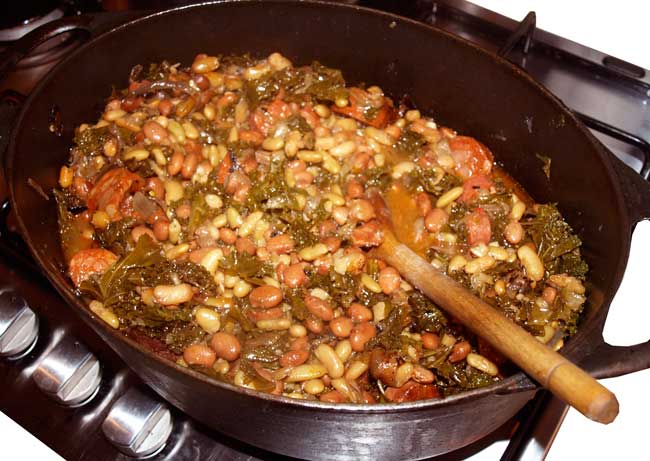 Ingredients
125g / 5 oz dried pinto beans

150g / 6 oz dried flageolet beans

1 tbsp coconut oil or 2 tbsp olive oil

1 large onion, peeled and sliced

2 Bird's eye green chillies, seeded and chopped small

1 large clove garlic, peeled and sliced

200g / 7 oz hot chorizo sausages (check ingredients but most are gluten free), sliced thickly

500ml / 17fl oz gluten and wheat free vegetable or chicken stock

100g / 4 oz curly kale, trimmed an chopped fairly small
sea salt
Method
Soak the dried beans overnight in plenty of cold water.

Throw out the soaking water and put the beans in a large saucepan with plenty of cold water.
Bring to the boil and simmer briskly for around 30 minutes or until they are relatively soft but not quite cooked. (Depending on how old they are they may take slightly longer or less time to cook.) Drain.

In a heavy deep pan, heat the oil and add the onions, chillies and garlic.
Fry briskly without burning for 4–5 minutes, then add the chorizo and continue to fry for a further 3–4 minutes.

Add the cooked beans and the stock.
Bring to the boil, cover and reduce to a simmer.
Simmer for 20 minutes, then add the kale, mix well in and continue to simmer for a further 20­–30 minutes.
Season to taste with sea salt.

You can eat the beat pot immediately, on its own or with a green vegetable or leave it for 24 hours and then reheat gently to eat.
We have over 800 delicious freefrom recipes on this site all of which are gluten free, most of which are dairy and lactose free and many of which are free of most other allergens. Please go to the following sections to try them out: