Michelle's Freefrom Baked Gammon (Ham)
Corn, egg, gluten, lactose, milk, nightshade, nut, peanut, sesame, soya & wheat free
This is a really easy but absolutely delicious dish – and provides some 'free' soup as well!
Serves 6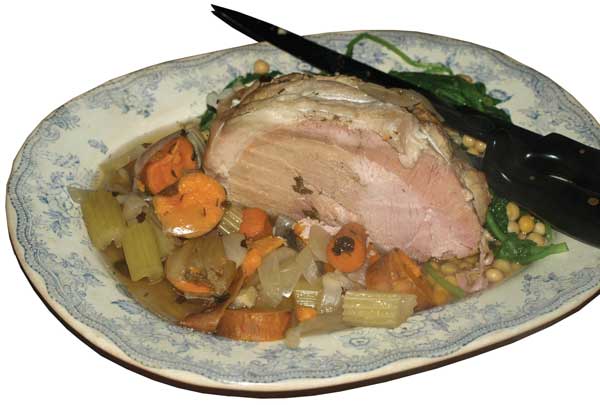 Ingredients
piece of gammon (ham) – approx 1.5 kilos / 3½ lb

1 large onion peeled and cut into large pieces

1–2 carrots, scrubbed and cut in large pieces

1 medium sweet potato, peeled and cut into large pieces

1–2 sticks celery, chopped roughly

6–8 mushrooms, wiped and halved

4–5 bay leaves

bunches of fresh parsley, thyme and oregano

freshly ground black pepper

1 cup Marsala

2 x 400g / 14 oz cans chickpeas

200g / 7 oz fresh spinach leaves, torn small, or baby spinach leaves
Method
Put the gammon (ham) in a large pan, cover with cold water and bring to the boil.
As soon as it boils discard the water and refill the pan with cold water to just cover the gammon.

Add the onion, carrots, sweet potato, celery, mushrooms, herbs, black pepper and Marsala.
Bring slowly to the boil, cover the pot and simmer gently for approximately 1 hour.

Allow the gammon to cool in the juices, then chill.
When entirely cold, remove any coagulated fat from the top with a slotted spoon.

To serve the gammon, reheat it gently in its juices.
Adjust the seasoning to taste. It should not need any extra salt but may need extra pepper.

Meanwhile heat the chickpeas in a steamer.
When they are hot, add the spinach and allow it to wilt in the heat – this will only take a couple of minutes.
Mix the spinach well into the chickpeas.

Serve the gammon surrounded by the vegetables and some juices and the chickpeas.
The remaining juices will make lovely soup.

Serves 6 – per portion
688cals – 60g protein
24.5g total fat – 8.5g sat / 0g mono / 0.5g poly
29g carbohydrate of which 8g sugar
2g fibre – 2570mg sodium / 6.5g salt
77mg calcium
Good Source of: Vitamin B1, B12
We have over 800 delicious freefrom recipes on this site all of which are gluten free, most of which are dairy and lactose free and many of which are free of most other allergens. Please go to the following sections to try them out: