Warm Roast Beetroot Salad
Corn, egg, gluten, lactose, milk, nightshade, nut, peanut, sesame, soya & wheat free
Serves 4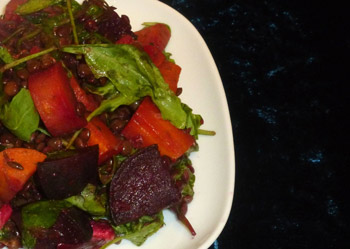 Ingredients
Bunch of beetroot, washed and cut into chunks
2 carrots, washed and cut into chunks
2 red onions, peeled and cut into chunks.
2 cloves of garlic
6 tbsp olive oil
250g puy lentils
500ml vegetable or chicken stock
400g pancetta cubes
2 tsp mustard (check ingredients)
Juice of 1 lemon
120g rocket
Method
Preheat the oven to 180ºC / 160ºC fan / Gas mark 4.
Put the beetroot, carrots, onions and garlic in a roasting tin.
Pour over 2 tbsp of olive oil and mix to coat the vegetables.
Cook for 50 - 60 minutes until the vegetables are cooked.
Place the lentils in a saucepan and cover with the stock.
Bring to the boil and then reduce the heat and simmer for about 20 minutes until the lentils are soft.
Add a little extra water if there is no liquid in the pan while the lentils are cooking.
Heat a frying pan and cook the pancetta, without oil, until it is browned and starting to get crispy.
Remove the gloves of garlic from the roast vegetables and place in a small bowl.
Squish with a fork or spoon and blend with the remaining oil, mustard and lemon juice to make a dressing.
In a large bowl gently mix the vegetables, the rocket and the dressing.
Serve immediately.
We have over 800 delicious freefrom recipes on this site all of which are gluten free, most of which are dairy and lactose free and many of which are free of most other allergens. Please go to the following sections to try them out: