Leftover Turkey Pie
Egg, gluten, lactose, milk, nut, peanut, sesame, soya & wheat free
I used the remains of our Christmas turkey from the freezer for this pie but left over roast chicken would work just as well.
Serves 6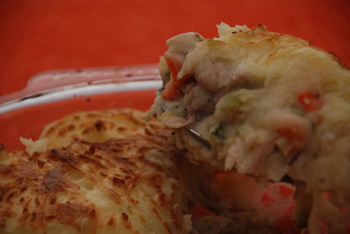 Ingredients
1 tbsp olive oil
1 leek, washed and sliced
1 large carrot, washed and cubed
1 clove of garlic, finely chopped
1 tsp dried sage
1 tsp dried thyme
1 tsp dried rosemary
340g cooked turkey chunks
1 heaped tbsp of dairy free spread
3 tbsp gluten free flour
500ml turkey stock
500g potatoes, peeled and cut into large pieces
a dash of dairy free milk
salt and pepper
Method
Heat the oven to 180°C/350F/Gas mark 4.
Heat the oil in a pan.
Add the chopped leek, carrot and garlic.
Gently saute until soft.
Add the herbs and cook for a minute or two.
Stir through the turkey and tip into an ovenproof dish.
Put the saucepan back on the heat and add the dairy free spread.
When melted, mix in the flour and cook for a minute or two.
Slowly add the stock while stirring to prevent lumps.
When all the stock has been added and the sauce is thick and smooth, pour over the turkey.
Boil or steam the potatoes until soft.
Mash the potatoes, adding a little milk to help make them smooth.
Season with salt and pepper.
Place the mash on top of the turkey so that it covers it.
Heat in the oven for about 20 minutes until the top is brown and the filling is hot.
We have over 800 delicious freefrom recipes on this site all of which are gluten free, most of which are dairy and lactose free and many of which are free of most other allergens. Please go to the following sections to try them out: