Rosemary Chicken with Honey and Lemon
Corn, egg, gluten, lactose, milk, nut, peanut, sesame, soya & wheat free
Serves 4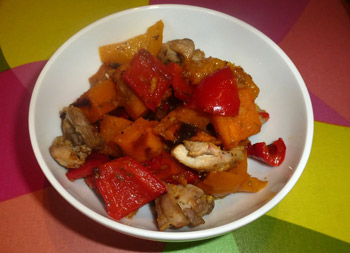 Ingredients
Olive oil
2 medium sweet potatoes, peeled and cubed
2 peppers, cut into chunks
8 chicken thighs or 4 breasts, cut into chunks
2 cloves of garlic, crushed
1 tsp dried rosemary
1 lemon, zest and juice
1 tbsp runny honey
freshly ground black pepper
Method
Heat 1 tbsp of oil in a wide pan and gently brown the sweet potato and pepper.
Add a little water and put a lid on the pan.
Continue to cook for about 20 minutes until the vegetables are soft but not mushy.
Meanwhile warm a little olive oil in another pan and gently cook the chicken with the garlic and rosemary until browned and cooked through.
Mix the cooked chicken into the cooked sweet potato and pepper.
Stir in the lemon zest and juice and the honey.
Add some pepper, the saltiness of the pancetta means you probably won't need salt.
Heat for a minute or two until warmed through and then serve immediately.
We have over 800 delicious freefrom recipes on this site all of which are gluten free, most of which are dairy and lactose free and many of which are free of most other allergens. Please go to the following sections to try them out: