Michelle's Freefrom Tuna with Italian Sausages and Tomatoes
Corn, egg, gluten, lactose, milk, nut, peanut, sesame, soya & wheat free
Another of these meat/fish dishes which were so popular a hundred years ago – although we usually seem to prefer to keep meats and fish separate these days. Shame – they work well together. Italian sausages are good for those on gluten-free diets as they are made entirely from meat with no added rusk. However, any fairly spicy, all meat sausage will do for this dish.
Serves 4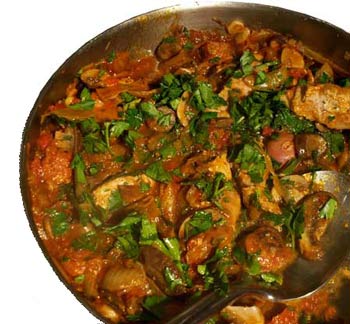 Ingredients
1 tbsp olive oil (the sausages will give out quite a lot of fat so you should not need more)

1 large Spanish onion, or 2 medium onions, peeled and sliced fairly thinly

4 cloves garlic, peeled and sliced thinly

2 sticks celery, trimmed and chopped small

4 Italian sausages, cut into thick rounds

200g / 7oz field mushrooms, wiped and sliced

250g / 9oz tinned chopped tomatoes

250g / 9oz tuna steak or fillet cut into

thick matchsticks hot sauce – check ingredients carefully

sea salt and freshly ground black pepper

large handful of parsley
Method
Heat the oil in a large wide pan and add the onion, garlic, celery and sausages.

Fry all together fairly gently for 20–25 minutes. You want the sausages to brown slightly and the the vegetbles to soften.

Add the mushrooms and continue to fry for another 3–4 minutes, then add the tomatoes.
Mix well then continue to cook for another 10 minutes or until the tomatoes are well broken down and amalgamated into the vegetables.

Add the tuna and continue to cook for a further 3–4 minutes or until the tuna is nearly cooked through.

Season to tastes with salt, pepper and several good shakes of hot sauce. You do not want it to be fiery but you want a bit of bite at the back of your throat.

Just before serving, stir in the chopped parsley.
We have over 800 delicious freefrom recipes on this site all of which are gluten free, most of which are dairy and lactose free and many of which are free of most other allergens. Please go to the following sections to try them out: