Michelle's Freefrom Tuna Matchsticks with Celery and Savoy Cabbage
Corn, egg, gluten, lactose, milk, nightshade, nut, peanut, sesame, soya & wheat free
Cabbage seems a rather vigorous vegetable to use with fish but tuna is itself sufficiently vigorous in both taste and texture for the two to work well together. Make sure that you use plenty of lemon juice and black pepper to bring out the flavours.
Serves 6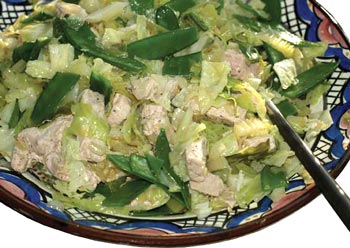 Ingredients
5 tbsp olive oil

2 large onions, peeled and chopped fine

6 sticks celery, cleaned and chopped small

1 medium-size Savoy cabbage, the outside leaves removed
and the rest chopped small, well rinsed

sea salt and freshly ground black pepper

4 fresh tuna steaks

300g / 10½ oz mange touts (snow peas)

juice 3–4 lemons
Method
Heat the oil in a wide, lidded pan.
Add the onions and the celery, cook for a minute or two then cover the pan and sweat over a low heat for 10 minutes.

Add the chopped cabbage, with the water still on its leaves and plenty of seasoning. Mix well.

Cover the pan again and sweat for a further 10 minutes or until the cabbage is almost cooked.

Cut the tuna into fat matchstick shapes and add it to the pan, mix in gently, cover the pan again and cook for a further 3–4 minutes or until the fish is cooked.

Meanwhile, halve the mange touts (snow peas) and steam them briskly for 1–2 minutes. You want them to lose a little bit of their crunchiness but to keep their colour.
Remove from the heat and mix gently into the fish and cabbage.

Season lightly with sea salt and generously with black pepper and lemon juice and serve.
Serves 6 – per portion
261cals – 26g protein
14g total fat – 2.5g sat / 8g mono / 2.5g poly
7g carbohydrate of which 6g sugar
3g fibre – 69mg sodium / 0.17g salt
78mg calcium
Good Source of: Vitamin B6, B12, C & folate
We have over 800 delicious freefrom recipes on this site all of which are gluten free, most of which are dairy and lactose free and many of which are free of most other allergens. Please go to the following sections to try them out: