Michelle's Freefrom Tuna and Lettuce Pie
Corn, egg, gluten, lactose, milk, nut, peanut, sesame, soya & wheat free
Lettuce always seems very cold at this time of year as a salad and most people do not realise that it cooks very well – just try this to see!
Serves 4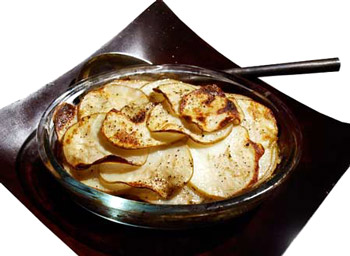 Ingredients
5 tbsp olive oil

4 medium leeks, very finely sliced

200g / 7oz fresh tuna cut in thin matchsticks

100g / 4oz okra (optional), topped, tailed and sliced into thick rings

100g / 4oz mange touts (200g / 8oz if you do not want to use the okra), cut in half or in thirds

300g / 12oz cos/romaine lettuce, chopped roughly

sea salt and freshly ground black pepper

rind of 2 and juice 4 lemons

2 large potatoes, very thinly sliced
Method
Heat the oven to 180C/350F/Gas mark 4.

Heat 4 tablespoons of the oil in a wide pan and add the leeks.
Fry gently for 8–10 minutes or until they are well softened.

Increase the heat and add the tuna – fry briskly for a couple of minutes to lightly tan the outside then remove from the heat.
Mix in the okra, if you are using it, mange touts and lettuce and season generously with salt, pepper, the lemon rind and half the lemon juice.

Turn into an oven proof pie dish.

Cover with the very thinly sliced potatoes and season lightly.
Cover with a lid or foil and bake for 45 minutes.

Remove the foil or lid, drizzle the oil over the potatoes which should now be almost cooked and return to the oven for a further 15 minutes to brown the top.

Grate over a little more black pepper and serve with a green vegetable and the remaining lemons to be squeezed over the dish according to taste.
Serves 4
315 Calories
18g Protein
17g Fat (2.5g Sat fat, 10.7g mono, 2.6g poly)
23g Carbohydrate of which 5.6g Sugar
6g Fibre, 36mg Sodium, 0.09g salt
109mg Calcium

Good Source: Magnesium, Vit B6,B12,C,Folate
We have over 800 delicious freefrom recipes on this site all of which are gluten free, most of which are dairy and lactose free and many of which are free of most other allergens. Please go to the following sections to try them out: