Trout Pâté
Corn, egg, gluten, lactose, milk, nightshade, nut, peanut, sesame & wheat free
I spotted some dairy free cream cheese made from coconut in Sainsbury's recently and thought it would be a useful alternative to soya cream cheese. Sadly, on closer inspection it does also contain soya but still works well as a base to carry other flavours.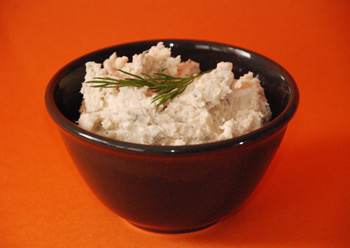 Ingredients
2 lightly smoked trout fillets
170g tub plain dairy free cream cheese
zest and juice of ½ lemon
2 stems of fresh dill
1 heaped tsp wasabi paste
Method
Flake the trout fillets into a bowl.
Add the cream cheese, lemon zest and juice.
Take the dill leaves from the stalks and chop finely.
Add the dill to the bowl and mix well.
Add the wasabi in small amounts to taste.
Serve on wheat and gluten free crackers or toast.
We have over 800 delicious freefrom recipes on this site all of which are gluten free, most of which are dairy and lactose free and many of which are free of most other allergens. Please go to the following sections to try them out: