Freefrom Smoked Trout Salad with Grilled Aubergine (Eggplant)
Corn, egg, gluten, lactose, milk, nightshade, nut, peanut, sesame, soya & wheat free
You can use this dish as a starter or a light lunch dish - lovely for a sunny supper in the garden, if the summer ever comes... Frying aubergines (eggplant) soaks up an enormous amount of oil and often makes them taste very rich and fatty. Grilling them hugely reduces the amount of oil that they absorb and leaves them much lighter and tastier. If you cannot eat nightshade plants, you can leave the aubergines out of the dish and it will still taste delicious.
Serves 4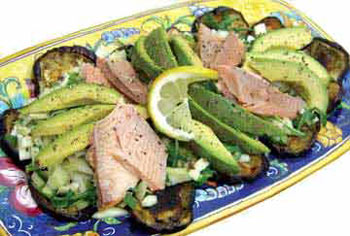 Ingredients
1 large aubergine (eggplant)

sea salt and freshly ground black pepper

2-4 tbsp olive oil

1 large or 2 small heads of fennel

1½ lemons

2 handfuls of wild rocket

1 large, ripe avocado

2 large fillets of smoked trout
Method
Wipe the aubergine (eggplant) and slice it thinly.
Spread the slices out on a foil-lined grill pan. Grate over some sea salt and black pepper and drizzle with a little olive oil. Cook under a hot grill for 6-8 minutes until the slices are well coloured. Turn the slices over, grate over more salt and pepper, drizzle with more olive oil and cook till well coloured but not burnt.
The aubergines (eggplant) should shrivel slightly.
Chop the fennel very small and turn into a bowl. Grate over a little salt and pepper and add the juice of 1 lemon and 1 tablespoon of oil. Mix well and set aside for at least 30 minutes.
To finish off the dish, chop the rocket with a scissors and mix into the fennel.
Lay the aubergine (eggplant) slices out on a serving dish. Spread the fennel and rocket mixture along the middle of the aubergine (eggplant).
Peel the avocado and slice lengthways. Break up the trout into smallish pieces. Arrange the avocado slices and trout over the salad.
Cut one slice off the remaining lemon to decorate the dish and squeeze the rest over the avocado and trout.
Grate over a little more black pepper and serve at once.
Serves 4 - per portion
258cals - 18g protein
19g total fat - 4g sat / 10g mono / 2g poly
4g carbohydrate of which 3g sugar
4g fibre - 685mg sodium / 1.7g salt
Good Source of: Vitamins B6 & C & folate
We have over 800 delicious freefrom recipes on this site all of which are gluten free, most of which are dairy and lactose free and many of which are free of most other allergens. Please go to the following sections to try them out: