Michelle's Freefrom Celeriac Soup with Smoked Mackerel
Corn, egg, gluten, lactose, milk, nightshade, nut, peanut, sesame, soya & wheat free
You can make this soup with the celeriac alone and, although its ingredients are so simple, it is really delicious. The smoked mackerel gives it a little edge - and adds a small amount to your intake of omega 3 fatty acids!
Serves 6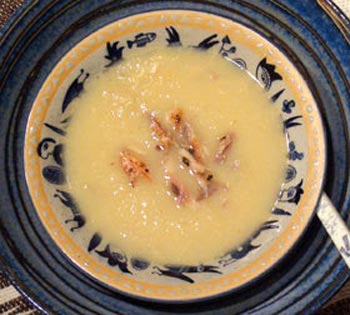 Ingredients
2 large onions

750g / 1lb 10½ oz celeriac

1.2 litres / 40fl oz gluten & wheat free vegetable stock

300ml / 10fl oz oatmilk

60g / 2 oz smoked mackerel fillets, peppered or not

sea salt and freshly ground black pepper
Method
Peel and chop the onions and put them in a large pan.

Scrub the celeriac and peel off any earthy or green portions; cut into large dice and add to the pan.

Add the stock, bring to the boil and simmer for 45 minutes
or until the celeriac is quite soft.

Purée in a food processor, then add the oatmilk and mix well.
Season lightly - especially if you are using peppered mackerel.

Break the mackerel into very small pieces and add to the soup, keeping back just enugh to decorate each bowl.
To serve, reheat gently but do not boil.
Adjust seasoning to taste and serve with a few little bits of smoked mackerel scattered over the soup.

Serves 6 - per portion
93cals - 5g protein
5g total fat - 1.2g sat / 1.7g mono / 1g poly
8g carbohydrate of which 6.5g sugar
5g fibre - 211mg sodium / 0.6g salt
We have over 800 delicious freefrom recipes on this site all of which are gluten free, most of which are dairy and lactose free and many of which are free of most other allergens. Please go to the following sections to try them out: