Michelle's Freefrom Smoked Mackerel Paté
Corn, egg, gluten, lactose, milk, nut, peanut, sesame & wheat free; can be soya free
Fish patés are always a delicious way to start any meal but they are traditionally made with breadcrumbs and butter – so a disaster for anyone on a gluten or dairy-free diet. So I was particularly pleased with this version which includes neither – but still tastes deliciously fishy and has a proper paté texture.
Serves 4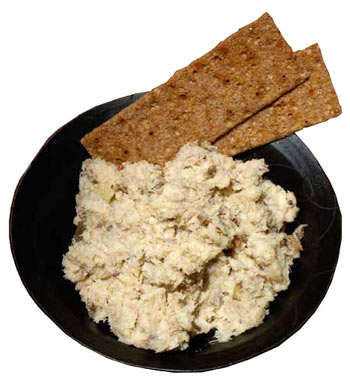 Ingredients
200g old potatoes, well scrubbed

1 scant tbsp coconut oil, dairy-free spread or olive oil

approx 100ml soya or oat cream

4–5 anchovies, depending on size and 1 tbsp of oil from the tin

1 large fillet of peppered smoked mackerel

sea salt and freshly ground black pepper if needed
Method
Cut up the potatoes and steam till well cooked and turn into a warmed bowl.

Mash with a masher or ricer along with the coconut oil, spread or olive oil and the soya or oat cream.

Chop the anchovies really small with a knife or a scissor and add to the potato along with their oil.
Beat with a wooden spoon until relatively smooth – you do want it to have some texture.

You should not need any further seasoning but taste to make sure.

Serve with thinly sliced rye or dark gluten-free bread, gluten/wheat-free crackers or toast or crudités.
We have over 800 delicious freefrom recipes on this site all of which are gluten free, most of which are dairy and lactose free and many of which are free of most other allergens. Please go to the following sections to try them out: