Michelle's Freefrom Smoked Mackerel and Amaranth (or Quinoa) Burgers
Corn, egg, gluten, milk, nightshade, nut, peanut, sesame & wheat free; can be lactose & soya free
The burger/patties are quite soft so try to make them the day before you need them and leave them in the fridge overnight.
Serves 6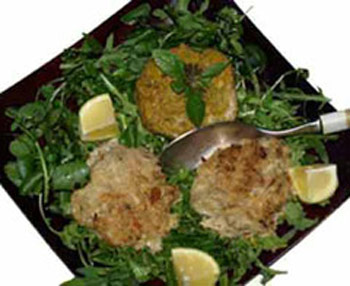 Ingredients
200g / 7 oz amaranth (or quinoa) grains

approximately 600ml / 20fl oz wheat and gluten-free vegetable stock
400g / 14 oz smoked mackerel, pulled into small shreds

100ml / 3fl oz goat, soya or oat cream

juice 2 lemons

freshly ground black pepper
Method
Cook the amaranth or quinoa in the stock for around 15 minutes or until the grains are soft and the liquid absorbed. (Start with slightly less liquid as the quinoa may absorb less than the amaranth.)

When cooked, mix in the mackerel and cream and season to taste with lemon juice and pepper.

Cover and chill for several hours, preferably overnight to 'firm up' the mixture.
Form into burger shapes and barbecue or grill for around 4 minutes on each side.
Take care they do not burn.

Serves 6 - per portion
370cals – 18g protein
24.4g total fat – 5g sat / 10.5g mono / 5g poly
21g carbohydrate of which3.51g sugar
0.5g fibre – 570mg sodium / 1.4g salt
40mg calcium

Good Source of: Vitamin B2, B6, B12, iron, zinc & magnesium
We have over 800 delicious freefrom recipes on this site all of which are gluten free, most of which are dairy and lactose free and many of which are free of most other allergens. Please go to the following sections to try them out: