Salmon Bites
Corn, gluten, lactose, milk, nut, peanut, sesame, soya & wheat free
Makes 18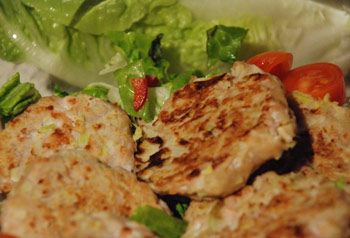 Ingredients
100g leek
1 red chilli (optional)
2 salmon fillets
60g buckwheat flour
½ tsp baking powder
1 egg
zest of 1 lemon
1 tbsp plain dairy free yogurt
1 tbsp oil
Method
Chop the leek and red chilli finely in a food processor.
Add the salmon and pulse briefly but don't whizz to a paste.
In another bowl mix the flour, baking powder, egg, lemon and yogurt.
Stir the salmon and leek mixture into the batter.
Heat the oil in a frying pan and spoon in teaspoon sized scoops.
When the bottom is set and lightly browned, turn them.
Give them a little press to flatten and cook the other side.
Be careful not to overcook, they are small and cook very quickly.
Serve with a squeeze of lemon juice.
We have over 800 delicious freefrom recipes on this site all of which are gluten free, most of which are dairy and lactose free and many of which are free of most other allergens. Please go to the following sections to try them out: