Freefrom Quinoa Pilaf with Anchovies and Black Olives
Corn, egg, gluten, lactose, milk, nightshade, nut, peanut, sesame, soya & wheat free
The combination of the coconut oil and the anchovies give this a really interesting flavour – just topped off by the olives.
Serves 4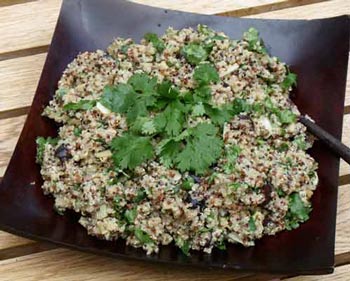 Ingredients
1 heaped tbsp coconut oil or 2 tbsp olive oil

50g / 2oz tin of anchovies, chopped small, with their oil

4 large cloves garlic, peeled and sliced

2 large or 3 small stalks celery, chopped fairly finely

a 50g / 2 oz piece of peeled ginger root, chopped coarsely

2 tsp coriander seeds, lightly crushed with a rolling pin

200g / 7 oz quinoa grains (I used multi coloured but plain is fine)

800ml / 30fl oz gluten and wheat-free stock

75g / 7 oz stoned black olives

freshly ground black pepper

juice 1–2 lemons

large handful of fresh coriander, chopped
Method
Heat the coconut or olive oil in a wide pan and add the anchovies with their oil.
Stir well to break up the anchovies so that their flavour percolates well through the dish.

Add the garlic, celery, ginger and coriander seeds.
Fry all gently for 10–15 minute or until the celery is soft.

Add the quinoa, stir well around then add the stock.
Bring to the boil and simmer for 10 minutes or until the quinoa is nearly cooked and most of the liquid absorbed.
Add the olives, then cover the pot and leave it, off the heat, for the flavours to mature and the quinoa to absorb the rest of the liquid.

When you are ready to serve the dish, season it with black pepper and lemon juice (you should not need any more salt) and mix in plenty of chopped coriander.
Serve with a green salad.
Serves 4 – per portion:

289 Calories
11g Protein
16g Fat ( 4g Sat fat, 5.5g mono, 1.8g poly)
29g Carbohydrate of which 4g Sugar
4g Fibre, 126mg Sodium, 3g salt
83mg Calcium

Good Source: B12
We have over 800 delicious freefrom recipes on this site all of which are gluten free, most of which are dairy and lactose free and many of which are free of most other allergens. Please go to the following sections to try them out: