Michelle's Freefrom Prawns in a Cream Sauce Wrapped in Pancakes
Egg, gluten, milk, nightshade, nut, peanut, sesame, & wheat free; can be lactose & soya free
This was a recipe that we developed for Tesco's Real Food website. The pancakes can be used for any other dish so it may be worth doubling up on the quantities and freezing what you do not need, interleaved with cling film. You can make the pancakes with a plain gluten-free flour or with buckwheat flour which gives them a lovely nutty taste. If you want them to be richer you can make them with milk and/or add an egg but when the filling is already quite rich, this is really not necessary. If you want to use them for a dessert, add a teaspoon of sugar to the mix and then stuff the pancakes with fresh soft fruit, stewed apple or pear, your favourite jam or some toasted nuts. Squeeze a little lemon juice over the top, or drizzle with honey or maple syrup.
Serves 4
Pancakes
This should make around 8 pancakes.

Ingredients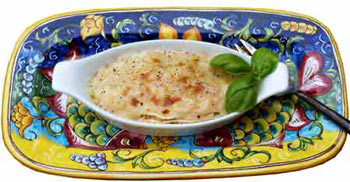 140g / 5 oz Doves Farm (or other) plain white gluten-free flour blend or buckwheat flour

pinch salt

300ml / 1¼ cups water

sunflower oil
Method
Put the flour and salt in the bowl of a food processor or liquidiser.
Add the water and whizz until the mixture is totally smooth.
Set aside for 5 minutes.

Heat a few drops of oil in a small non-stick frying pan till it smokes.

Pour a small ladleful of the mixture into the pan and roll it around so that it covers the whole base.
Let it cook fast until it is loose in the pan.
Either use a spatula to turn the pancake or toss it, if you feel brave, and cook it on the other side.

When that one is cooked, slide it out onto some parchment or cling film and cook the next.
Cook all the mixture, interleaving the pancakes with parchment or cling film so that they do not stick.
Filling
Ingredients

4 tbsp olive oil

2 small leeks, very finely sliced

30g / 1 oz cornflour/cornstarch

150ml / ⅝ cup dry white wine

400g / 14 oz frozen prawns/shrimp

250ml / 1 cup goat, oat or soya cream

sea salt and freshly ground black pepper

juice of ½–1 lemon

a little freshly grated Parmesan or dairy-free alternative such as Life FreeFrom's Parmezano

a few springs of parsley, basil or coriander to decorate


Method
Heat the oil in a wide pan and add the leeks.
Sweat very gently for at least 15 minutes with the lid on – they should be very soft and almost transparent but not coloured.

Meanwhile, in a small bowl, mix the white wine into the cornflour/cornstarch until you have a smooth paste.
Add this to the leeks and cook gently until the sauce thickens.

Add the frozen prawns and allow them to defrost in the sauce over a very low heat so that all their flavour is captured.

Very gently stir in the cream, allow the flavours to amalgamate then season to taste with the salt, pepper and lemon juice.

With a slotted spoon, divide the prawns among the pancakes, folding each pancake over and arranging them in a flat, heat proof dish.
Spoon the remaining sauce over the top of the filled pancakes.

Grate a thin layer of fresh Parmesan, or sprinkle a little Parmezano over the filled pancakes and brown lightly under a hot grill.

Serve with a green vegetable or salad and new potatoes.
Serves 4 – per portion
741 Calories
23g Protein
53g Fat (27g Sat fat, 16g mono, 6g poly)
38g Carbohydrate of which 2.5g Sugar
1.1g Fibre, 995mg Sodium, 2g salt
170mg Calcium

Good Source: Vitamin B1, B12, B6, Iron, folate
We have over 800 delicious freefrom recipes on this site all of which are gluten free, most of which are dairy and lactose free and many of which are free of most other allergens. Please go to the following sections to try them out: