Michelle's Freefrom Smoked Mackerel with Chrain
Corn, egg, gluten, lactose, milk, nut, peanut, sesame, soya & wheat free
Some years ago I wrote a chapter for a book of Festive Feasts on a Jewish passover supper – which included a recipe for gefilte fish with chrain. The fish balls were delicious but the star of the show was the chrain, a wonderfully vibrant relish of beetroot (beets), horseradish and vinegar. With Passover coming up in early April I remembered the chrain and thought how good it would be with a rich fish such as mackerel. It is very easy to make but remember that it loses its heat quite quickly so keep it in an airtight container if you want to make it ahead of time and store any extra in an airtight jar in the fridge.
Serves 6
Ingredients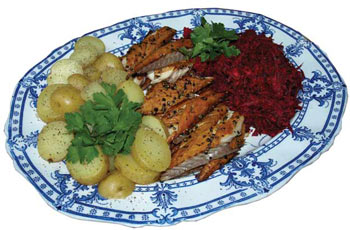 500g / 1lb 2oz small potatoes, thickly sliced

150g / 5½ oz grated fresh horseradish (you can buy it in jars)

90ml / 3fl oz red wine vinegar

300g / 10½ oz fresh beetroot (beets), scrubbed and coarsely grated

4–6 (depending on size) fillets of smoked, peppered mackerel

sea salt and freshly ground black pepper

parsley
Method
Steam the potatoes until they are cooked.

Meanwhile, mix the horseradish and the vinegar thoroughly into the beetroot (beets).

Break up the mackerel fillets and lay them in the middle of a serving dish with the chrain at one end.

Lay the cooked potatoes out at the other end of the dish and grate a little salt and black pepper over them.

Decorate with parsley and serve at once.
We have over 800 delicious freefrom recipes on this site all of which are gluten free, most of which are dairy and lactose free and many of which are free of most other allergens. Please go to the following sections to try them out: